Today I am reviewing Zacurate and Oxiline pulse oximeters.
These pulse oximeters are quite simple, but there are also sophisticated devices with many settings such as Wellue O2 Ring, Wellue SleepU…
I'll tell you today which pulse oximeters do not require special skills to use – older people can handle these models without any problems.
Zacurate is a well known brand of best selling pulse oximeters. They provide affordable good quality pulse oximeters.
Oxiline pulse Oximeters are popular because they involve a non-invasive method in their devices, that is, no effect is exerted on the human skin with the help of various kinds of surgical instruments.
The Oxiline devices have become leaders in sales and have created tangible competition among all pulse oximeters.
Are you looking for the best Pulse Oximeter in the market? Then Pay attention to Wellue O2 ring

This is a Silicone ring pulse oximeter.

My Top Pick

 

 

 

It is used for accurate tracking of all indicators and Oxygen levels and heart rate .

I would suggest you choose Wellue O2 ring which has much more main features and can be easily used as a sleep tracking device.
Zacurate vs Oxiline Introduction Table
Oxiline Pulse Oximeter's competitive advantage of this model is the high accuracy of the blood oxygen saturation level and heart rate. The error probability does not exceed 2%.
It is the highly recommended fingertip pulse oximeter with the easiest adjustment to your smartphone.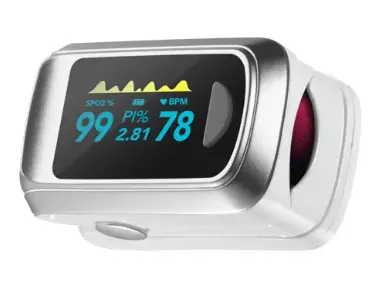 It has a large screen with a choice of brightness mode and information display mode, which similar devices cannot boast of. Therefore, it is often recommended for older people and those who experience vision problems.
The screen of the pulse oximeter is protected by a film. I took it off immediately, for better visibility. The screen is glossy black.
Zacurate Pulse Oximeter Pro Series 500DL 
The device is compact, equipped with a large screen with bright backlight, so readings can be seen in any light.
The device starts working when put on the finger and turns off immediately after removal.
This allows you to significantly save battery power, which lasts for about 40 hours.
The case of the device is shockproof, it can withstand a fall from a height of up to 3 meters. Pulse oximeters are tiny devices compared to other models, as well as the cost of the device.
Zacurate vs Oxiline Detailed Features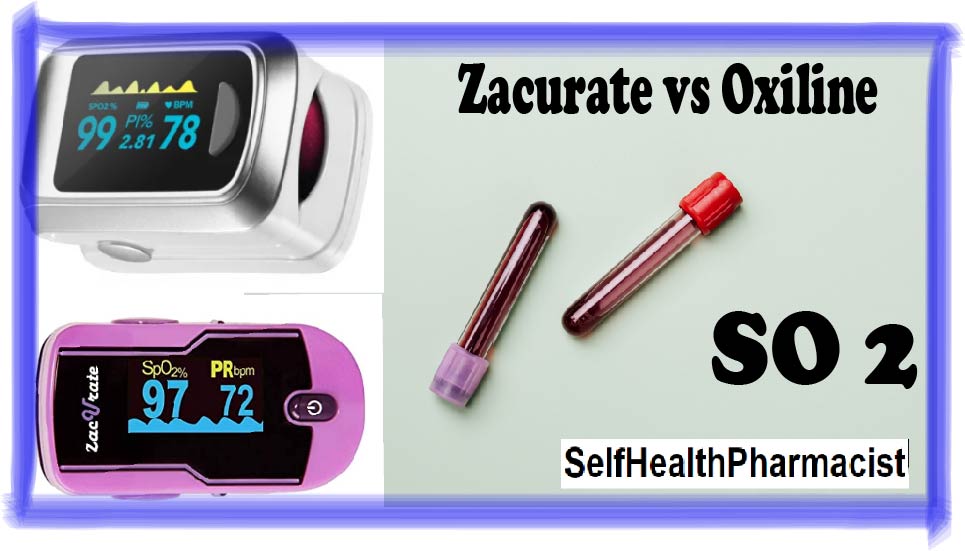 Zacurate vs Oxiline Working Process
The examination is very simple and painless. You need to press the edge of the device and open it like a clothespin, then insert your finger inside and press the power button.
The measurement results will appear on the screen after a few seconds.
One side of the device is a light source, and on the other – a receiving sensor. When you put your finger in a pulse oximeter, it sends light waves through your tissues.
Hemoglobin with oxygen and hemoglobin without oxygen absorb light waves of different wavelengths. The pulse oximeter analyzes the amount of transmitted light and translates the information into numbers. So you find out how many percent of hemoglobin is saturated with oxygen.
Blood oxygen saturation in healthy people is 95-100%. Saturation of 94% or less is a reason to see a doctor. Saturation of 92% or less is an indication for hospitalization in a hospital.
Saturation of 90% or less indicates severe hypoxia and is an indication for emergency (urgent) treatment.
With these devices measure saturation and heart rate even in children.
All of them run on two standard AA batteries, and the device itself is energy efficient, so you don't have to change batteries often.
Before you start measuring saturation or pulse rate, it is recommended that you read the instructions that came with the device.
Measurements are best done in darkened rooms and the patient should not move. In these devices, sensors are fixed on the upper phalanx of the finger.
What is so good about these Pulse Oximeters?
The most Important thing is that these devices give you accurate measurements. I am sure about this because I verified my oxygen level with the most accurate Wellue O2 Ring on the market today.
These models are equipped with a large display, which allows you to clearly see the numbers on it. However, it will not be possible to use it in the dark, as there is no backlight on the screen.
The dimensions of the devices are very compact, so you can take it with you on the road.
Final Words of What to Choose
Both Pulse Oximeters are great and accurate. You need to get one of them not to panic. Feeling of fullness in the chest and shortness of breath are not always associated with coronavirus.
Fatigue, milder illnesses can also lead to similar sensations. If the level of oxygen in the blood is above 95%, you can not worry about your health. That's why you need to get one of the following pulse oximeters.
 Zacurate Pro Series 500DL Fingertip Pulse Oximeter is a great device style="font-weight: 400;"> if you need an easy pulse oximeter in use with an easy reading Big Led display.
 But I would definitely recommend you pulse oximeter Pulse X Pro which occupies a strong position in the top best pulse oximeter ranking and boasts a measurement accuracy of up to 98%.
It can be used by both professional specialists and ordinary users at home. The latch fits snugly to the finger and does not move out during operation.
FAQ

Is Oxiline Pulse Oximeter FDA approved?

Yes, All Oxiline Pulse Oximeters are FDA-approved pulse oximeters that come with High Quality Led Displays, batteries with a long battery time.

Is Oxiline Pulse Oximeter Accurate?

The most Important thing is that this device gives you accurate measurements. I am sure about this because I verified my oxygen level with the most accurate Wellue O2 Ring on the market today.

What can be a good alternative to Oxiline Pulse Oximeter?

I would suggest you choose Wellue O2 ring which has much more main features and can be easily used as a sleep tracking device.

Is Zacurate FDA approved?

Yes. All of them are manufactured according to the CE and FDA standards.