Today there is again a hype about pulse oximeters as Coronovirus started to rage again…
Of course, similar devices are needed not only for people with severe diseases of the bronchopulmonary system and blood but also for normal healthy people.
Many of my friends in the house have pulse oximeters from a variety of manufacturers and in different price categories.
Today Let's Compare 2 famous Pulse Oximeters: ChoiceMMed and Contec.
ChoiceMMed vs Contec Pulse Oximeters Producers
Producer of ChoiceMMed MD300C12C
Producer CMS 50 Dl Contec Pulse Oximeter

СhoiceMMed is a Chinese

company that produces  different types of pulse oximeters

and medical devices for home and professional use.

 

It is quite a well-known medical equipment manufacturer that was founded in 1993 in Beijing, China.

The disadvantage of Choice med pulse oximeter is that  it does not have   FDA approval.

The company was founded in 1996 with the vision of innovating medical research and manufacturing.

The Company produces a huge variety of medical devices with innovative technologies.

The Company is established in Beijing, China.

 

 
ChoiceMMed vs Contec Pulse Oximeters Technical Characteristics 
СhoiceMMed  MD300C21C
Contec CMS 50 DL 

Power supply– 2 AAA batteries is equipped with an automatic shut-off function.

Oxygen saturation (SpO2) measurement range from 70% to 100%;

Saturation measurement error no more than 2%;

 Measurement range of pulse rate (PR), beats/min – from 30 to 250;

Error of measurement of pulse no more than 2 beats/min;

Operating time from one set of batteries – more than 30 hours;

Admissible circle of a finger for measurement: 20 – 75 mm

Power supply– 2 AAA batteries

SpO2 display range– 0% – 99%

 

SpO2 measurement range– 70% – 99% (± 3%)

Heart rate display -30 – 250 bpm

Pulse measurement range– 30 – 250 (± 2 bpm)

 

The display shows SpO2, pulse rate as a bar graph, battery capacity

Operation- 5°C – 40°C, humidity up to 80%
ChoiceMMed vs Contec Pulse Oximeters Pluses
Contec CMS 50 DL 
СhoiceMMed  MD300C21C

Compact

Lightweight and convenient

Easy to use

Low power consumption

LED display

Displaying the

heart rate

value as a bar graph

Low voltage low power indication

Auto power off function: will automatically turn off after 5 seconds, when there is no signal

Compact

Reliable

Good for athletes

Classifies as a sport device

 Large Led Display

 Can choose one of 10 levels of display illumination 

Creates and display a pulse histogram

The gadget consumes a minimum of energy, so it does not require frequent replacement of batteries.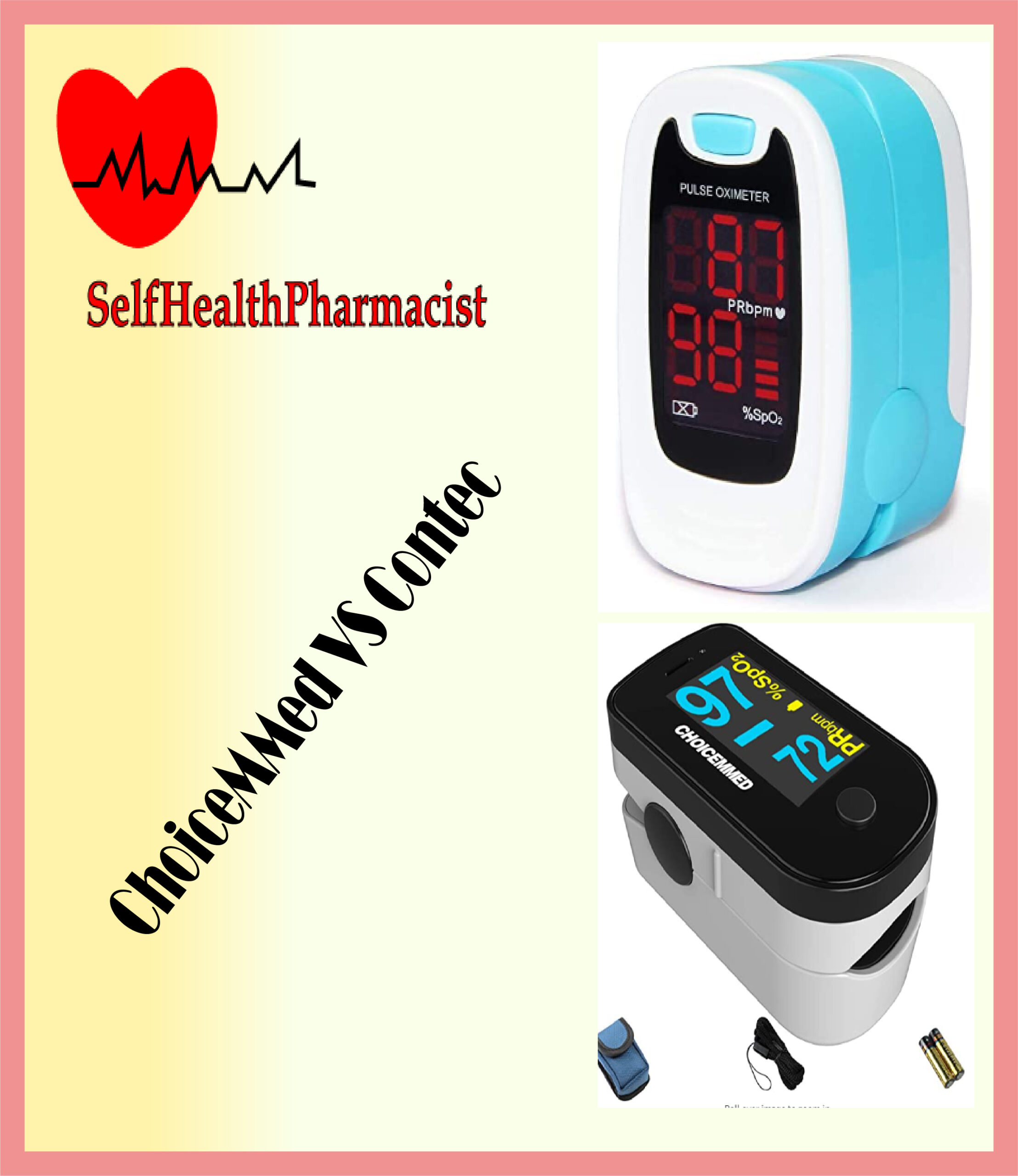 My Personal Experience of ChoiceMMed vs Contec Pulse Oximeters 
Contec CMS 50 DL 
СhoiceMMed  MD300C21C

It is probably the size of a matchbox, and a little more in appearance it resembles a small stapler.

Comes with a handy storage case and cord.

The device was additionally packed in a plastic bag.

Has only one button – inclusion.

It turns off automatically quite quickly if it does not measure.

The LCD displays two indicators – the pulse (upper line) and the level of oxygen in the blood (lower line).

The measurement range for SpO2 is from 0% to 100%, but as the doctor told me, the best indicator would be 98%.

For the pulse, the range here is from 30 to 250 beats per minute.

The measurement accuracy, according to the manufacturer, is +/- 2% and +/- 2 bpm.

During the illness, the pulse rate for all of my family members was quite high, I even doubted the correctness of the measurement.

But later I thought of comparing it with the pulse that the fitness bracelet considers for me, and the results almost coincided.

The seller said that the company is German, but the production is Chinese.

Well, to be honest, I did not find any information about Germany. It's all about China.

A lanyard is included.

The device itself is small in size and light in weight. The finger does not pull.

 I tried to measure on different fingers, periodically changed hands, but the indicators are the same everywhere.

In addition, it is not recommended to measure in the presence of varnish and gel polish.

I wear ordinary nail varnish, but personally for me, this does not affect the saturation indicators – I tried to carry out this manipulation on clean nails.

As for gel polish, I don't know – I can't say personally.

But many of my friends also measure with gel polish – so far everything is fine.

But this is as long as you are healthy and there are no complaints. In case of illness, it is better, of course, to adhere to the rules so as not to miss complications.

The device can set a different level of display brightness (there are already 10 of them).

The default is level 4. I tried all the levels – in principle, there is not much difference.

And the batteries save a lot. Came back again in level 4.
Final Words of What is Better ChoiceMMed Vs Contec?
Before purchasing a finger pulse oximeter, you need to carefully study the instructions, get acquainted with the advantages and disadvantages, and also consult a doctor or trainer.
This will help you navigate the choice of a particular model.
Both of these 2 pulse oximeters have small size and the same weight. They can be used on a regular basis. They can also be convenient to use even at night.
The devices are also quite accurate in measuring the saturation and pulse of a person.
And this is my advice to you:
Choicemmed Pulse Oximeter will be great for professional athletes. It determines the level of stress on the heart and chooses the desired intensity of training.
Contec Pulse Oximeter is a device that is a great device for people with problems with the cardiovascular system.
FAQ
On Which Finger Should I Put the Pulse Oximeter On?
The clip sensor is attached to the index finger of the hand.
It is not recommended to simultaneously install the sensor and the cuff of a medical tonometer on the same limb, since in this case the result of the measurement of saturation is distorted.
What is ChoiceMMed used for?
ChoiceMMed MD300C21C gives a precise control of blood.
It is a Sport pulse oximeter for athletes of various levels of training.  It is a Model for runners, climbers, and cyclists. 
Where is ChoiceMMed Manufactured?
The company was founded in 1996 with the vision of innovating medical research and manufacturing.
The Company is established in Beijing, China.
What Vitamins Oxygenate The Blood?
Vitamin B12 is essential for a revitalizing mind and body.
It is responsible for saturating the blood with oxygen and saves from anemia.