A pulse oximeter is a device that, until recently, was primarily needed by athletes and people with cardiovascular or pulmonary diseases.
But during a pandemic, acquiring it becomes relevant for almost everyone.
Doctors recommend that coronavirus patients monitor their blood oxygen levels, even if their illness is not severe. This makes it possible to notice deterioration in time and take the necessary medical measures.
Are you looking for the best Pulse Oximeter?

Then Pay attention to Wellue O2 ring

This is a Silicone ring pulse oximeter.

It is used for accurate tracking of all indicators and Oxygen levels and heart rate .

I would suggest you choose Wellue O2 ring which has much more main features and can be easily used as a sleep tracking device.
Why do Pulse Oximeters need Bluetooth?
Pulse oximeters  can be portable and stationary.
Since I am talking about individual personal use, I will review some options that are either mobile in nature or have mobile versions that you can buy and carry with you or keep at home.
From this point of view, the following types of pulse oximeters can be distinguished:
Rings or Fingertip, Arm Pulse Oximeters and Wrist Pulse Oximeters.
Today Many of them have Bluetooth.
But Why?
So that the received saturation and heart rate readings do not remain in the heart rate sensor, but can be shown to the user in real time, it is necessary to provide wireless data transmission from the sensor to the information display device, or from the combined sensor + watch / fitness tracker device to a computer for further analysis.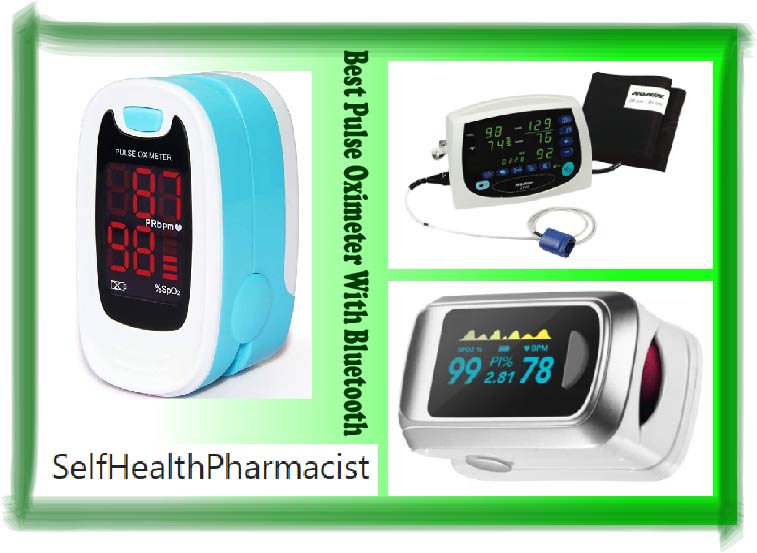 Now, virtually all modern sensors use one of two, or both, data transmission technologies at once:
Bluetooth/Bluetooth 4.0 BLE. It is a wireless data transfer protocol used in a large number of devices to transfer data between devices, or synchronize them with a computer.
Ant/Ant+. It is a specialized wireless data transfer protocol designed specifically for exchanging data between sports/health devices.
The table below lists the main differences of each technology.
Transfer (BLE) 
Bluetooth
Ant+
Advantages 

Widespread /Open transfer

Low power consumption / Support for complex connection topologies

Disadvantages

High power consumption

Proprietary protocol (Dynastream-Garmin)

Where can we use it?

Integration of

heart rate sensors

from third-party manufacturers, with a large number of smartphones / watches, etc…

Integration of specialized sensors, with running devices (Polar / Garmin / Suunto, etc.) and some smartphones (latest models of Sony / Samsung, etc.)
Now, presenting the capabilities of each technology in terms of measuring the saturation, pulse and data transmission, it remains only to determine what exactly is implemented in the device that you like in terms of design, or by the presence of some additional features.
Since it is too long to list all the devices and repetitions are inevitable in the form of almost identical devices from different manufacturers I chose the best Bluetooth Models for you.
Best Pulse Oximeter With Bluetooth
Mio Alpha 2
This Kickstarter project made possible what until recently seemed not very near future – to use a compact optical sensor to measure heart rate and saturation right on the arm.
The best fit for someone who wants to monitor their heart rate and saturation all day, and not just during certain training periods, besides, the new model looks modern and beautiful, and can be used as a Smart watch, with an additional function that smart watches will not be able to reproduce. watches from the giants of the industry.
Wellue O2 Ring
I think it is the latest technology of pulse oximeters.
It is the best choice for overnight oxygen saturation monitoring and health monitoring.
It has accurate tracking of all indicators and very common features such as oximetry Technologies, waterproof resistance, smart alarms and saturation alerts.
The device is simple and reliable in operation so that it can be used at home without special technical and medical knowledge.
The smart ring displays two main indicators – the pulse (the rhythm of the arteries, which is felt due to the work of the heart) and SpO2 – the amount of oxygen in the patient's blood.
Oxygen, which is transported throughout the body thanks to hemoglobin, ensures the normal functioning of body cells.
MED LINKET Pulse Oximeter
It is a Multifunctional Pulse Oximeter with Bluetooth connection.
It measures the key vital signs of the human body, will help you maintain health and prevent various diseases in the early stages of development.
Unlike analogues Armed, Contec and little doctor, the pulse oximeter is used not only to measure blood oxygen saturation (SpO2) and heart rate (bpm), but also reads perfusion (PI) and heart rate variability (HRV).
The device allows you to track respiratory diseases, as well as malfunctions of the cardiovascular system without a blood test.
For diagnostics, just place the device on your finger, and the display will show the measured values ​​​​for 5 seconds.
iChoice Relaxation Coach Pulse Oximeter
It is a fingertip High-Tech Bluetooth Oximeter that pairs with the iChoice Relax app . It can measure stress/calm levels and it also guides you to breathe at your Personal Best Relaxation Breathing Rate.
The Advantage of ichoice Relax pulse oximeter, it will personalize some breathing exercises so you will achieve optimum relaxation.
The pulse oximeter is used for preventive purposes, to assess the functions of the respiratory system in people with respiratory or pulmonary problems, and people with cardiovascular diseases.
The miniature overall dimensions of the heart rate monitor allow you to carry it with you and use it at any time.
Best Pulse Oximeter With Blood Pressure Monitor
Even healthy people need a blood pressure monitor, especially if they lead a sedentary or, on the contrary, an active lifestyle.
And for the elderly or those suffering from chronic diseases, it is completely necessary.
With the help of a tonometer, you can diagnose hypertension and other health problems in time, which may not appear for years.
It would be a great combination if you get a pulse oximeter with a blood pressure monitor in 1 device.
Here are these BEST Devices…
Sejoy Blood Pressure monitor
This Device is a Pulse oximeter with non-invasive blood pressure monitor.
This  pulse oximeter provides simultaneous monitoring of two parameters – non-invasive pressure and SpO2 – combining these functions in one lightweight, compact and easy-to-use portable device.
The versatility of this blood pressure monitor when monitoring patient parameters is combined with its high mobility, which manifests itself both in its easy mounting on a swivel stand and in the presence of a convenient carrying handle.
Ideal for patients of all ages from children to adults, the device is available with a wide range of SpO2 probes and blood pressure cuffs.
Characteristic features of this Blood Pressure Monitor:
Flexibility of settings – the possibility of automatic and manual measurement

Possibility of adjusting the pressure in the cuff – the upper level of inflation is determined by the device, but can also be set manually

Low maintenance costs – can be calibrated "in the field"

Deep analysis of data during removal – a necessary feature for long-term monitoring.
Sinocare Blood Pressure Monitor
This is a blood pressure monitor and pulse oximeter at the same device.
It is compact, easy to use, suitable for monitoring blood pressure, pulse and has:
– bright contrast screen with large characters;
– automatic cuff inflation system;
– 90 measurement results of each of 2 users are stored separately in the log;
– runs on 4 batteries or 1A charger and USB type – C wire
On the screen, all the inscriptions and numbers are white. On the left is a warning scale for arrhythmia: green – normal, orange – indicators are alarming, red – high pressure.
The cuff fits from 22 to 42 cm in the circumference of the forearm. It is connected to the device with a durable plastic connector that ensures tightness.
On the cuff there are tags-hints on how to properly wear and secure fixation.
 Even a pleasant voice informs about the rules of use and the measurement results, but only in English.
Final Words
The number of "smart" devices in medicine is growing every day.
From all the medical devices you must have high quality pulse oximeters and blood pressure monitors at your first aid kit.
 With a pulse oximeter ,It is necessary to monitor and timely diagnose the level of saturation of hemoglobin in the blood with oxygen.
Blood Pressure Monitor is needed for diagnosis, determining the correct actions during first aid, in the treatment of a number of diseases, etc. 
 Choose High quality devices, they are needed for diagnosis, determining the correct actions during first aid, in the treatment of a number of diseases.
FAQ

 

How do I connect my oximeter to my phone?

 

 Switch Bluetooth on After Click for Bluetooth instructions. 

 After switching on your pulse oximeter. Find your Pulse Oximeter in Bluetooth and connect the device by clicking NEXT bottom.

How Does a Bluetooth Pulse Oximeter Work?

The sensor with LEDs is superimposed on the finger. When light passes through the blood and soft tissues, it is partially absorbed, which makes it possible to determine the oxygen content in the blood.

The received data are displayed on the display of the device in the form of numbers.

Are Home Pulse Oximeters Reliable?

Pulse oximeters are fairly accurate, but not 100% accurate.

 Manufacturers indicate a measurement error of 2%.

Again, many factors influence the results: this is the presence of physical activity before taking readings – the muscles need oxygen, which means that its level in the blood will fall;

This is the presence of earrings in the ear, if the device is attached to the lobe; bright lighting, drinking coffee or tea – the indicator is higher, cold fingers – the result will be lower, so they need to be warmed up first.