A home first aid kit is an "ambulance" at the first sign of illness or domestic injuries.
Domestic accidents are frequent. Knife cuts, burns from touching a frying pan or hot oil – all these troubles require first aid. The correct home first aid kit must have essential items, ambulance phones and medicines.
First Aid Kit – What must be in it?
A home first aid kit includes a minimum set of medicines that should always be at hand.
Unless you live in a small village there is no need to keep a shelves of bottles with syrups for different types of coughs, to clog the refrigerator shelf. Trying to maintain immunity with "good bacteria", to buy antibiotics without a doctor's prescription.
After all, 24-hour pharmacies are available to almost everyone, and people with chronic illnesses know how much money they need to keep at home.
A universal first-aid kit contains what is needed urgently and suddenly, it helps to wait for a doctor and can be used by people without medical education.
Where to buy first aid kits?
There are universal options for such kits, which are sold fully equipped in a special box. This is very convenient indeed, as it makes it easier to provide first aid kits in the workplace and gives you the confidence that all the medicines you need will be there with the correct expiration date.
Boxing can be plastic or fabric, here everyone counts on their own needs and comfort. 
My Top Picks of First Aid Kits
Essential Items of First Aid Kit
Essentials include the means necessary for the treatment of household wounds. The rescue kit includes:
Medical alcohol for hand disinfection;

Antiseptics such as hydrogen peroxide, iodine, brilliant green;

Bandages of different sizes –These essentials are constantly being challenged. Everyone knows that they should be at home. But when they are urgently needed, they cannot be found.
And if cotton wool can still be found in a cosmetic bag, then you are simply counting on your luck.
When you are hurt, you have no time to remember where what lies. Dressings need to be taken and blood is stopped, so keep your first aid kit stocked up.

Sterilized gauze pads;

Adhesive plaster;

Scissors.
The first aid kit should have a list of emergency telephone numbers so that any family member can call for help as quickly as possible.
In addition First-aid kit should keep those medicines that you often use, you should keep the packaging and instructions for them.
Medicines that should be in your medicine first aid kit:
Antipyretic, pain relievers such as paracetamol and ibuprofen, do not forget to read the instructions before use;

Anti-allergy medications, especially if someone at home is allergic to dust or pollen;

Anti-influenza pills;

Laxatives and antidiarrheal;
Ointment for burns – Panthenol should be in the form of a scald spray at home. Contrary to popular advice, burns should not be lubricated with oil, bacon and everything that grandmothers like to use.
A burn is one of the most dangerous injuries that is difficult to heal. And even applying a special ointment is painful. Let's say thanks to modern release forms that will cope with minor burns and help you wait for a doctor if an injury requires a doctor's supervision.Panthenol or solcoseryl in the form of ointments and gels will cope with minor household injuries, cuts, abrasions.
It is even better if the composition of panthenol is combined with an antiseptic, the same chlorhexidine

Thermometer

. Temperature and fluctuations in blood pressure happen to everyone, and treatment depends on the indications of the simplest devices.
Paracetamol, ibuprofen, nimesulide are nonsteroidal anti-inflammatory pills. All three pills must be added to your medicine first aid kit.
They differ in time of action, anti-inflammatory activity. Practice shows that if the temperature does not drop from paracetamol, then ibuprofen helps; if ibuprofen fails, nimesulide will serve as a remedy for headache and toothache, pills help in different ways, depending on individual tolerance.It is important not to get carried away and not to use all the medicines with an interval of half an hour, but to follow the instructions in the instructions and dosage.
Vasoconstrictor nasal drops with oxymetazoline. Have you heard about pills addiction and the eternal runny nose, from which only constant instillation will save?
These are the consequences of using pills of the old generation. Modern options allow you to hold out for 5-7 days, instilling the pills only twice a day.Result: the virus retreated, the addiction did not appear…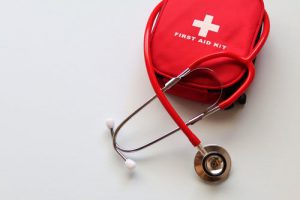 The most dangerous medicine at first aid kit
The most dangerous medicine in the home medicine cabinet is captopril, which is now recommended to be used instead of the popular nitroglycerin.
If you do not have problems with blood pressure and blood vessels, you should still have captopril: this is a pill that can be given to a patient in case of a hypertensive crisis (one of the most common causes of death in the world) before an ambulance arrives.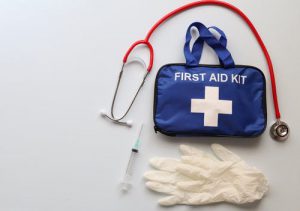 First Aid Kit Final Words
Here is a simple Algorithm of action: Notice the symptoms, call an ambulance, put the patient to bed, provided him with an air flow. If he is taking any blood pressure medications, give them.
And only if there are no such pills, put a captopril tablet under the tongue. Important: tell the ambulance what you used.
Remember that this is not green stuff and not coal, it is strictly forbidden to distribute captopril with "flies in the eyes".