A device for monitoring saturation and pulse indicators is popular not only among patients suffering from chronic diseases of the heart, blood vessels, and the respiratory system.
The device is desirable to have in the home first aid kit.
It is a universal device, helps to determine the heart rate and saturation (blood oxygen saturation).
Today I am making a full research of the Lookee ring sleep monitor pulse oximeter. 
 Read This: Wellue O2Ring V .Lookee Ring Sleep Oxygen Monitor article if you want to understand whether this pulse oximeter is the best and why.
After heavily researching the best overnight pulse oximeter options to meet your wireless oxygen monitoring needs, I've found that it really comes down to this brand.
In a Hurry? My Fast Answer is

Unfortunately Lookee Ring didn't make it to my top #1 Oximeter list.

Let me tell you about the Wellue O2Ring – it's like the superhero of pulse oximeters, seriously!

One of the coolest things about it is that it doesn't just clip onto your finger like your average oximeter.

Nope, it's a smart ring that you wear on your finger, making it super comfortable and convenient. You won't even feel like you're wearing anything special, yet it's working its magic behind the scenes.

What sets the Wellue O2Ring apart from the pack is its continuous monitoring feature.

Most pulse oximeters just give you a snapshot of your oxygen saturation and heart rate, but this bad boy keeps tabs on your levels around the clock.

Whether you're chilling on the couch, out for a jog, or catching those Z's, it's right there with you, providing real-time data.

Oh, and speaking of data, this thing doesn't just show you numbers – it visualizes your trends over time too.

Imagine having a personal health diary that tells you when you're acing life and when you might need to take it easy. It's like having a health-conscious buddy right on your finger!

If you're already itching to get your hands on the Wellue O2Ring (or, well, your finger in this case), I've got you covered.
 My Lookee Ring Sleep Monitor test
The Lookee Ring Sleep Oxygen Monitor is a strong contender with its patented ring sensor, silent vibration alarm, and compatible mobile app for viewing analysis reports.
The device is rectangular in shape and fits like a ring over the thumb or finger, freeing the rest of the hand. 
Lookee ring is a smart ring pulse oximeter that synchronizes with a smartphone via Bluetooth and transfers the data to the app. The measurement results are stored in the memory of the device itself, as well as in the application, so you can check the dynamics of changes at any time.
The Lookee ring sleep monitor displays two main indicators – the pulse (the rhythm of the arteries, which is felt due to the work of the heart) and SpO2 – the amount of oxygen in the patient's blood.
Oxygen, which is transported throughout the body due to hemoglobin, ensures the normal functioning of body cells
The advantages lie in the intuitive interface and the possibility of long-term monitoring of indicators. Patients can buy a pulse oximeter and use the device themselves.
All devices have memory. The results are transferred to a computer, which is very convenient for home use, because it allows you to provide the results to the doctor.
The work Principle of Lookee ring
Continuously tracks oxygen levels and heart rate every 4 seconds.
The smart oxygen Monitor is equipped with an adjustable gentle vibration. The vibration alarm can only be used for detecting low oxygen levels.
The sensor with LEDs is superimposed on the finger. When light passes through the blood and soft tissues, it is partially absorbed, which makes it possible to determine the oxygen content in the blood. The received data are displayed on the display of the device in the form of numbers.
Analysis reports can only be viewed on a mobile app…
Sleep, Sport Measures of Lookee Ring 
An oxygenation sensor has been built into the ring, thereby making the format for determining blood oxygen saturation more convenient, including during sleep.
This product is also useful before and after your workouts to monitor vitals.
Many trainers recommend buying this ring and using it even in the absence of health problems. This is due to the fact that its correct use allows you to increase the effectiveness of classes by 10-15%.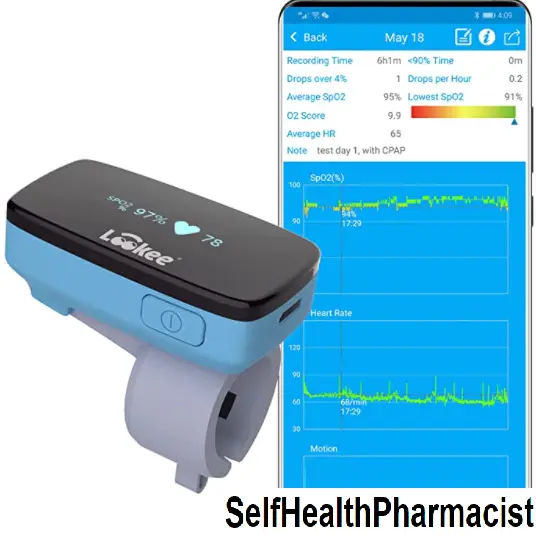 The concentration of oxygen in the blood, in normal health, can be seen as a potential reserve of strength. Therefore, the indications are used as follows:
If, after performing the exercises, the value is above 97%, then the training is taking place without providing the proper load. In other words, you need to complicate it, there is enough energy left.

If the value falls below 95%, you need to switch to the "light" mode. It can take a long time to recover, but further exhausting training can adversely affect the training, causing injury.
A Modern Lookee ring takes measurements within just one minute.
With its compact size, you can take it with you. With frequent observations of a strong drop in saturation, you should immediately consult a doctor.
This may indicate the development of serious diseases, the professional assistance provided at the initial stage will allow you to count on a positive result in the treatment.
The above information indicates that saturation at the time of exercise can be used to determine the state of health or to regulate exercise.
That is why the popularity of pulse oximeters among amateurs and professional athletes is so strong.
Unfortunately, it is not water resistant so You can not swim with this...
How to use Lookee Pulse Oximeter?
Now you need to remember the rules of operation:
Wipe the sensor with a cotton or gauze swab moistened with medical alcohol (it is acceptable to use a damp soft cloth).

Keep the device away from moisture because it is not water resistant 

Eliminate mechanical damage.

Check the dynamics of blood oxygen saturation at rest. Bright lighting negatively affects the results.
Pros & Cons Of Lookee Ring
Pluses of Lookee Ring
Minuses of Lookee Ring

The pairing and use of this device are exceptionally easy

Analysis reports can only be viewed on a mobile app

A modern Lookee takes measurements within just a minute.

Ring fits comfortably and securely

Can be set to vibrate at a customized oxygen level and vibration intensity

Collects accurate readings and creates detailed analysis reports on mobile app 

The strong side of the pulse oximeter can be called not the most compact dimensions and the inconvenience of using it in a dream.

Does not produce printable analysis reports

The vibration alarm can only be used for detecting low oxygen level

Some reports of the display being difficult to read

Not water resistant so You can not swim with this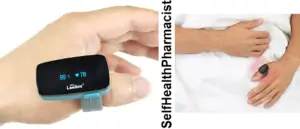 How do you read a Lookee Ring?
It continuously tracks oxygen saturation levels and heart rate, and records data every 4 seconds.
Data collected by the device can be viewed in the compatible mobile app, which also generates helpful analysis reports to help you see how your oxygen levels are doing.
A Lookee ring determines exactly the brightness of the blood and allows you to judge how much hemoglobin in arterial blood is associated with oxygen.
This figure is expressed as a percentage, and it is what is called the saturation of the blood (or rather hemoglobin) with oxygen. If the pulse oximeter reads 96%, it means that 96% of the hemoglobin carries oxygen and 4% does not.
A Lookee ring also determines the pulse rate; some devices can also show a pulse wave, which makes it possible to indirectly judge the blood supply to organs.
However, it's not compatible with a computer and doesn't generate printable reports to share with your doctor.
My Final Words
When it comes down to it, the Lookee Ring Sleep Oxygen Monitor is lacking a few key features, making it a less appealing ring sensor pulse oximeter option compared to different pulse oximeters (like to the Wellue O2Ring).
Check Latest Deal
However, the Lookee ring has its own advantages. This ring is a comfortable and innovative pulse oximeter nowadays.
Lookee Ring Sleep Oxygen Monitor helps me hourly with sleep apnea by reminding me to sleep on my side when I don't use a CPAP mask.
Lookee ring is one of the most accurate modern devices for determining oxygen saturation in the blood and pulse rate. During its operation, the device does not require maintenance and periodic calibration.
Any person can handle this ring, as there is nothing complicated in managing it.
FAQs

What is a LOOKEE?

The Lookee Ring Sleep Oxygen Monitor is a strong contender with its patented ring sensor, silent vibration alarm, and compatible mobile app for viewing analysis reports.

The device is rectangular in shape and fits like a ring over the thumb or finger, freeing the rest of the hand. 

Is lookee ring FDA approved?

The Lookee Ring Oxygen Monitor is FDA approved. In other words, the company has the permission from the US Food and Drug Administration (FDA) to advertise the device as medical.

Without FDA approval it is difficult to understand how accurately the device works.

Who is Lookee Tech?

 Lookee Tech is a company that found incredible and valuable technological innovations for our well being.

The company makes products that help restful night's sleepers with sleep apnea.

The company has created medical equipment that can independently monitor your health and the health of elderly relatives.

Is lookee oximeter accurate?

Yes. It Accurately and continuously tracks and records your blood oxygen levels, heart rate and body movement.

What's a battery of Lookee rings?

 It has a Rechargeable battery via USB with >16 hours battery life.