More than 50 million people use all kinds of applications and gadgets that measure health indicators – and this is statistics only for the United States!
A bracelet has already appeared that records the level of solar radiation and warns that it is time to update the spf. And a glass that automatically detects the number of calories in the drink.
And a cutting board that syncs with your fitness tracker and phone, knows how you moved today, what you ate and how much you slept, and suggests your own dinner option.
In a Hurry? My Fast Answer is

Let me tell you about the Wellue O2Ring – it's like the superhero of pulse oximeters, seriously!

One of the coolest things about it is that it doesn't just clip onto your finger like your average oximeter.

Nope, it's a smart ring that you wear on your finger, making it super comfortable and convenient. You won't even feel like you're wearing anything special, yet it's working its magic behind the scenes.

What sets the Wellue O2Ring apart from the pack is its continuous monitoring feature.

Most pulse oximeters just give you a snapshot of your oxygen saturation and heart rate, but this bad boy keeps tabs on your levels around the clock.

Whether you're chilling on the couch, out for a jog, or catching those Z's, it's right there with you, providing real-time data.

Oh, and speaking of data, this thing doesn't just show you numbers – it visualizes your trends over time too.

Imagine having a personal health diary that tells you when you're acing life and when you might need to take it easy. It's like having a health-conscious buddy right on your finger!

If you're already itching to get your hands on the Wellue O2Ring (or, well, your finger in this case), I've got you covered.
Wellue O2 Ring vs Apple watch Series 4
[Read Here My Full Wellue O2 Ring Review]
To be Health connected is an unconditional trend.
The idea of ​​connecting a user and a doctor using a telephone and the Internet was first proposed by American doctors.
They implied that the technology would help primarily chronic patients who need regular injections and medication.
The phone reminded me of vital things: when it was necessary to inject insulin or take painkillers. And then he sent the data to the attending physician.
But the highly specialized market instantly expanded to the scale of the universe. It turned out that health is an even more attractive commodity than beauty and eternal youth.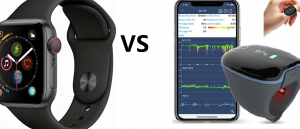 Today let's look at healthy gadgets comparison of Wellue O2 ring VS Apple Watch Series 4 and see what are their differences.
Introduction. What are Wellue O2 ring vs Apple watch Series 4?
Wellue O2 Ring is a handy silicone ring pulse oximeter with built-in SpO2 sensor that detects blood oxygen saturation and a heart rate sensor.
The ring tracker is an additional device for monitoring health in people with heart and lung diseases, sleep apnea attacks.
By Wearing the ring, it will automatically start to track your overnight blood oxygen saturation, heart rate and body movements continuously. 
Apple Watch Series 4 is a smartwatch, the Apple company executives made the most modern gadget for monitoring health.
Functionality is no less important: first of all, in the medical part.
It was stated at the presentation that the watch can now not only automatically record the pulse during the day, but also build an electrocardiogram (ECG), as well as track a person's falls – with notifying the user's relatives in case of suspicions of a danger to life.
Pulse oximeter/ The O2 Score of Wellue O2 Ring vs Apple watch Series 4
The O2 Score is a measure of the oxygen in the blood. It combines the frequency, duration and depth of oxygen fall.
A higher score means richer oxygen. If it is yellow or red, seek medical advice.
Apple Watch Series 4 uses a new heart rate monitor, which, however, works on the basis of the same photoplethysmogram method.
Allowing to measure the pulse using a green LED and a photodiode.
The principle of their operation is very simple: red blood, since it reflects red light and absorbs green, respectively, shining through veins with green light, the photodiode can record a volumetric blood pulse caused by a periodic change in blood volume with each heartbeat.
This method of measuring the pulse is slightly inferior to chest straps, but it is quite suitable for consumer use in order to monitor the pulse and not unnecessarily burden the heart.
The ring tracker Wellue O2 Ring stores up to 40 hours of information on the level of oxygen in the blood, heart rate and movements during sleep.
You can sync O2 Ring data with the app by installing it on your phone.
In the application, you can set the vibration volume level so as not to wake the sleeping person nearby, as well as oxygen thresholds and heart rate, after consulting a doctor.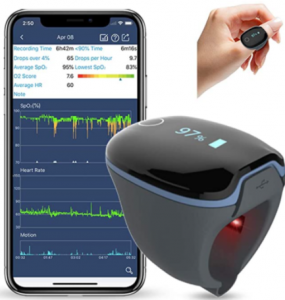 For example, for a user with COPD, the blood oxygen saturation threshold can be set from 70 to 80% depending on the stage of the disease.
The application graphically shows the level of blood O2 saturation as a percentage and how much time the user was, for example, in hypoxia.
This is a fairly accurate way of measuring the effectiveness of CPAP treatment as well.
Heart Rate Tracking of Wellue O2 Ring vs Apple Watch Series 4
Apple Watch Series 4 measures your heart rate every 10 minutes, and it does so continuously during sports.
At the same time, the watch knows how to notify the user if the heart rate rises sharply or, on the contrary, falls.
As for Wellue O2 Ring Oxygen levels and heart rate are tracked more frequently (every second) even when you are doing sport.
Sleeping tracking function of Wellue O2 Ring vs Apple Watch Series 4
With the Wellue O2 ring, sleep tracking is one of its main aspects. The ring gives more detailed information and more valuable data on your sleep habits.
We are talking about total sleep, time in bed, resting heart rate (the number of times your heart beats per minute when you're at rest), and sleep stages (REM sleep, deep sleep, and light sleep), timing, and even latency (how long it takes for you to fall asleep).
So, the ring provides you with a pretty solid look at how your night went. 
An added benefit of the vibration alarm is that if you're sharing a bed with a partner, it only wakes you up (unlike a sound alarm, which might wake up your partner).
 Now Apple watch .Apple has put a sleeping track problem on the shoulders of users.
And many good apps are far from free. For example, the Pillow program for use is now too expensive.
If I'm not mistaken, you have to pay for it on a monthly basis (those people, including me, who bought the application before the monthly subscription appeared, have a "lifetime" license).
The watch has a built-in alarm clock, which can be set either by voice (using Siri) or manually.
Of course, there is no smart alarm clock and cannot be until the clock learns to independently monitor the phases of sleep.
Sport features of Wellue O2 Ring vs Apple Watch Series 4
The sports features in Apple Watch Series 4 have expanded slightly due to innovations in watchOS 5, now the watch supports more sports, for example, yoga has finally appeared on the list.
Otherwise, the watch can still track running, swimming (including in open water), cycling, boxing, exercising on a variety of simulators in the gym and much more.
So Apple Watch will monitor your health as a heart rate, pulse etc but with some available interruptions. 
 Wellue O2 Ring you can easily use while you are doing sport. However, frequent movement can make the readings unavailable.
Typically, the readings are restored a few seconds after stopping the movement.
Work Autonomy of Apple Watch Series 4 vs Wellue O2 Ring
Despite the enlarged display and slightly reduced battery capacity, Apple claims that the autonomy of the Apple Watch Series 4 is at the same level of 18 hours as in Series 3.
The company promises that the watch will work that long if the user checks 90 times a day, receive 90 notifications, 45 minutes to work with applications and exercise 60 minutes with listening to music via Bluetooth.
That is, we are talking about quite active use. If you exclude sports and use less applications, then depending on how often you check the time and alerts, the clock will last 2-2.5 days.
Almost an hour of running with GPS takes about 12% of the battery, while Apple notes that in this mode the watch can work up to 6 hours. At least you can run a marathon in Apple Watch Series 4.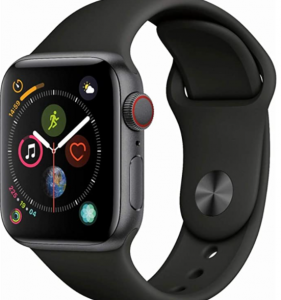 The ring pulse oximeter has a built-in rechargeable lithium polymer battery, which provides the device with up to 12-16 hours of continuous operation.
The O2Ring package includes a USB cable and instructions.
There is a regular USB charger and you can use any USB charging cable to charge it.
This cable allows for direct data transfer to a PC, not a Mac, but to a PC. It will work with any Windows 7 and higher.
When to wear a gadget for getting effective results?
The tracker Wellue O2 Ring ring can be worn throughout the day, but it will be most beneficial at night, especially for those people who have episodes of obstructive sleep apnea, the main manifestation of which is snoring.
In obstructive sleep apnea, oxygen saturation drops and hypoxia occurs.
O2 Ring responds to changes in oxygen levels with vibration, which helps wake the user up, notifying them to change their body position to a more comfortable one, or to regain breathing and fall asleep again.
Wellue recommends wearing the tracker ring on your middle and thumb. Due to its flexibility and silicone rim material, O2 Ring sizes range from 50-82mm.
 As for the Apple Watch, for the most accurate results when using wrist positioning, Taptic Engine, and electrical and optical heart rate sensors, the back of the Apple Watch must be in contact with your skin.
Properly attaching your Apple Watch to your wrist (it should fit snugly without over tightening and allowing your skin to breathe) will ensure comfortable wearing and proper sensor performance.
During exercise, you can tighten the Apple Watch strap and then loosen it slightly. Plus, the sensors will only work if your Apple Watch is on top of your wrist.
Why do I have different readings for oxygen monitors from Wellue O2 Ring and Apple Watch?
Different manufacturers use algorithms with different average SpO2 times, which is an important element in calculating readings. 
The shorter the collection time, the more sensitive the result, the faster the response.
An oxygen monitor with too long evaluation times is not the best choice for determining oxygen saturation, especially during sleep.
Wellue's intelligent averaging algorithm quickly collects data and determines an accurate SpO2 value.
Therefore, it is not necessary to compare oxygen monitors using different averaging algorithms. The comparison result will be much more accurate if it is obtained from arterial blood oxygen.
Wellue O2 Ring vs Apple watch Series 4 What to get?
 The Apple Watch and the wellue O2 Ring have a lot in common. They are designed with health and wellness in mind.
As for the Wellue O2 Ring Wearable – it was considered to be a great purchase if you are looking to improve your sleep habits and the general quality of life.
There's no question that Wellue ring takes the advantage when it comes to sleep tracking because it gives you more detailed information about your sleep.
Read the comparison of Wellue O2Ring vs. Lookee Ring Sleep Oxygen Monitor HERE
 When using Wellue O2 Ring you can share your detailed report converted to PDF or Excel.
It Collects accurate readings and creates detailed analysis reports on app or computer software that can be printed and shared.
But at this stage, the smartwatch faced serious difficulties.
The gadget needs to be in close proximity to the iPhone in order to connect to the Web or collect information about the user's health.
This turns the smartwatch into a smartphone accessory that does the above tasks just fine.
If sleep-tracking isn't what you want to get for you ,the Apple Watch is your best option. 
Apple Watch Series 4 is more interesting not only in terms of sports features.
They remain as functional as possible for iPhone users, so they are still the only choice for those who want a smart and sports watch in one device.
At the moment, this is just a smartwatch that allows you to work more comfortably with a large smartphone and take it out of your pocket or bag less often.
In theory, it is not the most convenient and functional gadget on the market in its class.