Pulse Oximeter with Alarm for Sleeping. What are the Benefits of Overnight Monitoring?
Any pulse oximeter allows you to efficiently and consistently monitor your heart rate and oxygen saturation.
It is especially suitable for people suffering from heart disease, chronic obstructive pulmonary disease, bronchial asthma and sleep apnea, as well as for those who play sports at high altitudes, such as mountaineering, skiing or flying.
In a hurry?
If you did not find a technological solution that helps you to fall asleep on time and wake you up gently at a right sleep phase, then you must try a pulse oximeter:
Wellue O2 Ring. It is a device that not only monitors your health and saturation level but it is  also a great helper with your sleeping disorders.
Wellue O2 Ring could be your helper that immediately makes your eyes pop, or a helper that can track your sleep and wakes you up at the right time.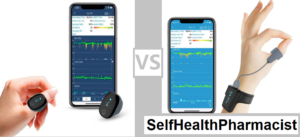 Pulse Oximeter as Overnight Monitoring 
Measuring the concentration of oxygen in the blood with a pulse oximeter does not require taking tests or puncturing the tissues of the finger.
At the same time, the device shows accurate and reliable data, if you do not violate the rules for its use.
Such a device allows you to control the state of the body without visiting a doctor for everyone. However, in some cases, a pulse oximeter is literally indispensable:
1. Sleep problems. Snoring, habitual to many, is not just an annoying nuisance. Sometimes this phenomenon is associated with a dangerous disease – sleep apnea syndrome.
These are uncontrollable pauses in breathing during sleep. Their total duration can reach 3 hours per night and disrupt the process of oxygen supply to the blood.
A pulse oximeter helps to identify such a situation.
2.Previous heart attack. After this disease, rehabilitation is necessary. During this period, you need to be especially attentive to the state of a person's well-being during day time and night time.
But often going to the clinic to get tested is not the best way out, besides, after a heart attack, not every person can do it physically.
Here, a smart ring pulse oximeters come to the rescue, in a matter of seconds it determines the saturation all day long , and at the same time the pulse at home.
The Need of a Pulse oximeter with Alarm for Sleeping
To have a right and healthy regime we must go to bed on time.
The best time for sleeping and resting is from 21-00 to 00-00. Until midnight, 1 hour of sleep counts as 2 hours, which is confirmed even by modern scientists.
At this time, the human nervous system rests.
So, that's why there are many smart gadgets that always remember you when you go to bed such as smartwatches, smart pillows or even pulse oximeters with sleeping alarms that start gently vibrating and reminding you to go to bed.
Everyone knows the feeling when a hated alarm clock pulls you out of a sweet dream at the most interesting moment.
You can't come to your senses for a long time, understand where you are, and you feel overwhelmed all day long.
But, fortunately, there is a way to always wake up easily. There are also life hacks for waking up.
It's easier for someone to wake up not from loud sounds from the phone, but from gently vibrating smart watches or pulse oximeters.
Or from an alarm lamp that slowly increases the brightness, simulating the dawn outside the window. I trust the most reliable method so far: Pulse Oximeter Smart Alarm, which does not bother my partner's sleep.
The work Principle of a Pulse Oximeter with a Sleeping Alarm
Usually modern pulse oximeters are worn on your fingers. They measure performance using built-in sensors, you can track progress in the application on your smartphone after.
For example, Wellue O2 Ring or Oura Pulse Oximeter Rings even allow you to share your detailed report with your doctors.
The Sleeping Alarm function is not only letting you know when you must go to bed but also the sleeping alarm lets you know about hypoxic events or even abnormal heart rates. The built in sleeping alarm will also vibrate and remind you of low oxygen levels or irregular heart rates if it happens.
The advantage of this Sleeping Alarm is that it is noise-free, only wakes you when needed and protects your partner's sweet dream.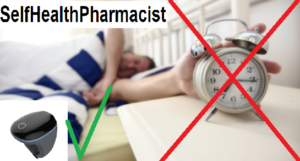 The accuracy of pulse oximeter trackers depends on the algorithm laid down by the manufacturer and the actions of the owner.
Overnight Monitoring in Pulse Oximeters with Sleeping Alarm
Usually, to monitor sleep in pulse oximeters, two sensors are used: an accelerometer monitors movements, and a heart rate monitor monitors heart rate, duration and stages of sleep.
Some nights use pulse oximeters additionally to take into account the level of oxygen in the blood. Its decrease during sleep can affect the quality of sleep and lead to sleep apnea and daytime sleepiness later.
Sleep consists of sequentially changing phases: REM sleep and slow, or deep, which includes three cycles.
A person goes through all the phases several times a night. In the phase of deep sleep, a person stops moving, and the pulse slows down and becomes monotonous. During REM sleep, breathing increases and heart rate and blood pressure increase.
Sometimes pulse oximeters provide a "raw" array of data that is difficult to interpret without special education: the owner of a pulse oximeter receives information that he cannot use.
That's why pay attention to Wellue O2 Ring which gives you an opportunity to send a detailed sleeping report to your doctor for consultation.
 Most Pulse oximeters an overnight monitors and sleep-tracking devices only assume whether a person is sleeping or not – often they mistake inactivity for sleep. But trackers can give a rough idea of the sleep schedule, and if the user has no health problems, this is enough.
Privilege of Pulse Oximeters with Sleeping Tracking
The constant use of an alarm clock is very bad for the body. More often this happens due to the fact that the alarm clock rings precisely at the moment of deep sleep, when a person is not in the mood to wake up and stay awake.
At such moments, the body is under severe stress. Therefore, the whole day a person will be tired and depressed.
As experts explain, human sleep has several phases.
First comes the "easy" phase, when it is easiest for the body to wake up. Then the dream goes into a "deep" phase, when a person is fast asleep. And only closer to awakening, a sound sleep is replaced again by a light phase.
It is during this phase that a person sees dreams. If waking up with an alarm occurs in a light phase, then this is quite good.
In this case, the body calmly perceives the exit from the state of sleep, which allows it to easily tune in to any activity. If the alarm signal catches up at the moment of deep sleep, then it will be difficult to wake up, and in the future it may lead to a violation of the biological rhythm with loss of sleep (insomnia).
That' why pay attention to gentle gadgets such as Wellue O2ring what wakes you up gently and in the right phase of sleep.
Other smart overnight monitors with Sleeping Tracking Functions
 Today the number of functions of smart watches is growing – but more often they are used to view notifications and track physical activity.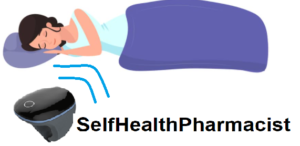 Some smart devices help improve sleep for people who suffer from nightmares, including those caused by post-traumatic stress disorder (PTSD). The watch analyzes body movements and heart rate – based on this, it "understands" when a person is having a nightmare and begins to vibrate.
Dependency on Pulse Oximeters with Sleeping Alarm and Overnight Monitors
The University of Bath studied the impact of smart technologies (phones ,smartwatches, pulse oximeters, fitness bracelets) on the health of people aged 13-18 for two years. A study of more than 1,000 Britons found that the constant use of activity trackers can lead to obsessions, anxiety and fear.
52% of those surveyed using smart gadgets monitor calories, physical activity, mood, heart rate, sleep patterns, overnight sleeping process and menstruation.
But constantly checking the tracker can lead to addiction caused by the desire to become healthier or more athletic than their peers.
Many of the subjects complained of eating disorders, paranoia, and anxiety about not seeing results from diet and exercise and sleeping regime compliance.
Final Thoughts 
If you have not found a technological solution that helps you to fall asleep on time and wake you up gently at a right sleep phase, then you must try a pulse oximeter.
It is a device that not only monitors your health and saturation level but also a great helper with your sleeping disorders.
It could be your great helper that immediately makes your eyes pop, or a helper that can track your sleep and wakes you up at the right time.
FAQ

 

What is the Best overnight pulse oximeter?

WellueO2ring. The tracker ring can be worn throughout the day, but will be most useful at night, especially for people who experience episodes of obstructive sleep apnea, the main manifestation of which is snoring.

In obstructive sleep apnea, the level of oxygen saturation in the blood drops and hypoxia occurs.

The Wellue O2 Ring responds to changes in oxygen levels with a vibration that helps wake the wearer to change their position to a more comfortable position or to breathe and fall asleep again.

What should spo2 be when sleeping?

The saturation rate for a healthy person while sleeping is considered to be 95% or more

It is recommended to call a doctor when the saturation drops to 94%. Saturations of 92% and below are generally considered critical. A person with such a low blood oxygen level needs urgent medical attention.

There are exceptions. For example, in severe chronic obstructive pulmonary disease, which is common in smokers, the saturation index can be from 88% to 92%.

Usually the body of such people is adapted to a lower level of oxygen. If you have a pulmonological disease, your doctor will tell you which saturation value should be an alarm for you.

How to use overnight pulse oximetry?

If you use a modern smart ring pulse oximeter just put it on your finger and connect to the application. In case of any health troubles the ring will vibrate.

If we are talking about finger devices, they are also attached to the finger, while a cord extends from them, which goes to the bracelet with the monitor. Usually, these devices are not designed for 24/7 and overnight monitoring of SpO2.

Should I buy a Pulse oximeter with an alarm for sleeping?

Yes. Pay attention to gentle gadgets such as Wellue O2ring that let you know when to get to bed and wakes you up gently and in the right phase of sleep.