It is no secret that visiting a medical institution, long lines, lack of conditions for comfortable waiting are serious stress.
And stressful situations are categorically contraindicated for people with diseases of the cardiovascular system.
The presence of a home portable electrocardiograph will help to avoid additional stressful situations associated with the need to visit a medical facility.
Today we are talking about Portable ECG Devices.
Looking for the best pulse oximeter?

Let me tell you about the Wellue O2Ring – it's like the superhero of pulse oximeters, seriously!

One of the coolest things about it is that it doesn't just clip onto your finger like your average oximeter.

Nope, it's a smart ring that you wear on your finger, making it super comfortable and convenient. You won't even feel like you're wearing anything special, yet it's working its magic behind the scenes.

What sets the Wellue O2Ring apart from the pack is its continuous monitoring feature.

Most pulse oximeters just give you a snapshot of your oxygen saturation and heart rate, but this bad boy keeps tabs on your levels around the clock.

Whether you're chilling on the couch, out for a jog, or catching those Z's, it's right there with you, providing real-time data.

Oh, and speaking of data, this thing doesn't just show you numbers – it visualizes your trends over time too.

Imagine having a personal health diary that tells you when you're acing life and when you might need to take it easy. It's like having a health-conscious buddy right on your finger!

If you're already itching to get your hands on the Wellue O2Ring (or, well, your finger in this case), I've got you covered.
Portable ECG is a diagnostic device designed to prevent and warn. Only a qualified medical specialist should decipher the results of the cardiogram, analyze and prescribe treatment.
Let's take a closer look at 2 famous portable EKG Monitors : WellueDuoEK and Kardia Mobile.
Wellue DuoEK Vs KardiaMobile Chart
 

Wellue DuoEK
KardiaMobile
What is this?

It is a modern, easy to use and light ECG / EKG monitor.

It weights less than 30 grams.

Measurements take less than 1 minute.

It is a unique third-generation portable electrocardiograph that will become an indispensable assistant in maintaining your health.

Where to get it?
Wellue DuoEK vs KardiaMobile Working Principle
 

Wellue DuoEK
KardiaMobile
What is the work Principle?

This EKG can be used independently and as a chest strap that offers maximum comfort that does not interrupt you.

The gadget works in tandem with a special application for a smartphone, where ECG records are kept, and the data themselves can be stored in the phone's memory or sent to the cloud.

If you constantly monitor the work of the heart and are observed by a doctor, then the data can be shown to him/her.

It is enough to attach the AliveCor KardiaMobile ECG Monitor to the back of the smartphone, launch the AliveECG application and place your fingers on special electrodes. 

The measurement will start automatically without you even having to press anything.

In this case, the electrocardiograph will save all the received data in the application independently.

How to start using it?

To start ECG Monitor, you need to download the ViHealth app on your phone so you can use this to keep track and monitor.

ECG devices can take Lead I, Lead II, and also Chest Lead measurements.

 The app allows us to send the reports directly to the doctor's desk .

The device takes 30 seconds to get the measurements and sometimes up to 5-7 minutes if the person moves a lot.

Attach the device to the chest strap and you can follow the measurements in the app.

From the Benefits,

It doesn't require any subscription as it's all included.

 

To start using the AliveCor KardiaMobile ECG Monitor, all you need to do is download the AliveECG app to your iOS or Android smartphone, fix the electrocardiograph behind the smartphone, and then simply place your fingers on the electrodes.

After that, the KardiaMobile ECG Monitor will analyze the necessary data within 30 seconds, and your cardiogram will be displayed on the smartphone screen, as well as saved in the application.

At the same time, you do not need to connect to it via Bluetooth to synchronize with the electrocardiograph. 
For Whom is WellueDuoEK and Kardia Mobile?
These portable electrocardiographs can be taken with you on vacation, in the country, on a business trip.
These Models give you the opportunity for regular self-monitoring of the cardiovascular system, prompt adjustment of physical activity, diet and lifestyle.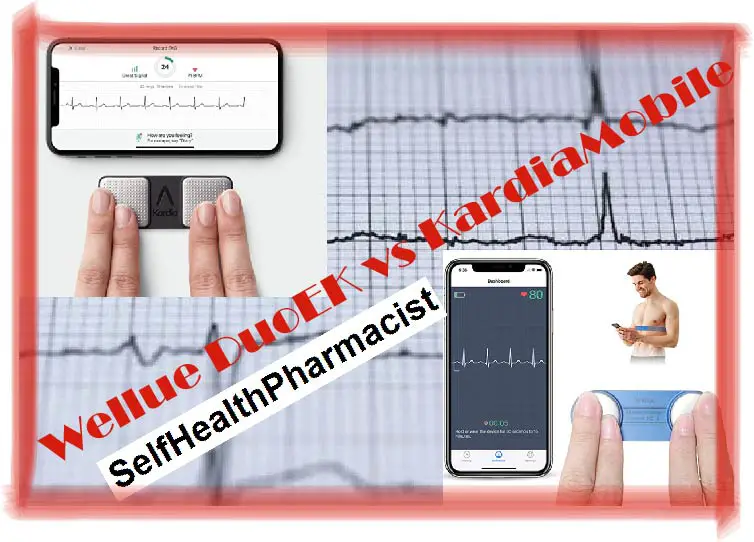 The software algorithms of these portable electrocardiographs allow you to track the dynamics of the heart over a certain period of time, compare the results, and identify improvements or deterioration.
Having electrocardiogram data available, the doctor gets a clear and complete picture of the state of the patient's cardiovascular system, can evaluate changes in myocardial function in accordance with many parameters, compare and analyze them in order to identify factors that affect health and prescribe the most effective course of treatment.
These portable cardiographs are designed specifically for home use and will be useful for people who have had a heart attack or surgery.
These cardiographs will allow you to minimize the dangers of the rehabilitation period, avoid complications and evaluate the effectiveness of pills therapy.
Nothing prevents healthy users from buying ECG monitors. A mobile cardiograph is able to identify the problems of cardiac pathologies at the earliest stages, reducing the risk of developing heart disease.
They can be also used at home to monitor the work of the heart muscle of people involved in sports. Fans of an active lifestyle, extreme recreation, professional athletes have the opportunity to control the work of the heart during training, before it starts and at the end.
Measurement statistics allows you to optimally adjust physical activity, develop a personal training program, and avoid overstrain. With the help of an electrocardiograph, you can carry out stress tests and take an electrocardiogram in the field.
Final Thoughts of WellueDuoEK and Kardia Mobile
When you need to choose the best portable ECG device from these 2 ,it comes to the following factors:
Kardia Mobile is considered to be a medical device while WellueDuoEk is more like a fitness tracker that monitors your heart.
The Kardia Mobile device is capable of collecting data about heart rhythms through 1 lead. Kardia Mobile has over 100 million EKGs recorded.
For measuring heart rhythms, Wellue DuoEK collects data through 2 leads. It provides hand, leg, and chest measurements to obtain reliable data.
The Kardia Mobile is the modest ECG heart monitor with FDA approval. So it makes it the most reliable and accurate portable EKG device that you can use safely.
As for The Wellue DuoEK , it does not have FDA Approved and it makes it less reliable for users. You can get irregular information, and it can detect irregular heartbeat.
 To start using The Kardia Mobile, it does not require gels, patches, to monitor your heart. You just need to place your fingers on the sensors and you will see the measurements.
The Wellue DuoEK can be used either with a chest strap or independently.
So from all the comparisons above it goes without saying that Kardia Mobile is a better device to choose .
FAQ

Is KardiaMobile as good as an EKG?

Yes. Kardia Mobile may provide valuable insights of your heart rate.

It goes without saying that this device can't replace a full Medical EKG Device that is used in the hospitals. 

Is the KardiaMobile accurate?

Yes. It can provide accurate instant analysis when you use it correctly.

Does KardiaMobile have a monthly fee?

No, it does not require a monthly fee for EKG readings and to get your Kardia determination you do not need a subscription.

The subscription is an optional service that sends your EKG records to the Clinician Review service and gets a real review back from the real doctors and experts.

Can Kardia be used by 2 people?

Yes. Kardia Mobile can be used by 2 people. For this, another user needs to log in to their account on the Kardia app. 

Does KardiaMobile take blood pressure?

Yes. It can take Blood Pressure. In order to record blood pressure, simply select:

"Add Your Blood Pressure"".

Can a KardiaMobile be used with a computer?

No. It will not work on a laptop or desktop computer.

How long does a Kardia last (Battery)?

Usually, the internal battery in the monitor Of Kardia Monitor lasts for 1-2 years of normal use . Normal Use is 2-3 recordings a day.

Can Kardia detect PVCs?/Can KardiaMobile detect PAC?

Yes, Premature Ventricular Contractions (PVCs) and Premature Atrial Contractions (PACs) can be easily detected with this device.