Sleep plays an important role in the functioning of the body, but even a long eight-hour rest will be of little value if a person constantly feels discomfort and wakes up – and this is a common case in people suffering from sleep disorders.
Startups around the world are looking for the perfect format for a sleep tracker.
There are already trackers in the form of a bracelet, a mobile application, a pillow, a table lamp, a mattress pad, a mask.
Are you looking for the best Pulse Oximeter and a sleep Tracker on the market?
Looking for the Best Sleep Tracker?

Let me tell you about the Wellue O2Ring – it's like the superhero of pulse oximeters, seriously!

One of the coolest things about it is that it doesn't just clip onto your finger like your average oximeter.

Nope, it's a smart ring that you wear on your finger, making it super comfortable and convenient. You won't even feel like you're wearing anything special, yet it's working its magic behind the scenes.

What sets the Wellue O2Ring apart from the pack is its continuous monitoring feature.

Most pulse oximeters just give you a snapshot of your oxygen saturation and heart rate, but this bad boy keeps tabs on your levels around the clock.

Whether you're chilling on the couch, out for a jog, or catching those Z's, it's right there with you, providing real-time data.

Oh, and speaking of data, this thing doesn't just show you numbers – it visualizes your trends over time too.

Imagine having a personal health diary that tells you when you're acing life and when you might need to take it easy. It's like having a health-conscious buddy right on your finger!

If you're already itching to get your hands on the Wellue O2Ring (or, well, your finger in this case), I've got you covered.
And now there is also a sleep ring – GO2SLEEP.
Well, it's not exactly a ring, but rather a small capsule on the ring. But, in theory, it should be more comfortable than, for example, a bracelet.
But, in addition to the sleep phases, this ring can track the pulse and the level of blood oxygen saturation (using an optical sensor).
Why is this needed?
Let's look at this closer and understand much more…
Go2sleep My Research
Go2Sleep is a revolutionary device to monitor and improve your sleep quality.
This ring improves comfort while maintaining nearly the same detection accuracy of a pulse oximeter, but with much more important information.
The tracker was developed by the American startup SleepOn, founded in 2015.
A miniature wearable device weighing a few grams is placed in a special ring made of medical silicone and put on your finger before going to bed.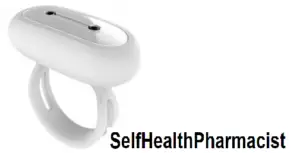 Accurate data collected will help you make a detailed sleep report. Based on this data, the smart app will offer you personalized tips and recommendations to improve your sleep quality.
By syncing with a smart app, you can easily monitor your and your family's sleep quality.
The gadget comes with a charger. On a single charge, the device can work for three nights without charging, and the built-in memory of Go2sleep is enough to save seven nights of sleep data.
How does Go2 Sleep Work?
Being on the finger, the gadget, using various sensors, including a three-axis accelerometer and a pulse oximeter, monitors the user's movements in sleep, heart rate, blood oxygenation level and perfusion index (pulse strength).
All of these parameters are important for assessing the quality of sleep and can help determine the presence of apnea, because when a person stops breathing for a while during sleep, the level of oxygenation in the blood decreases and the heart rate increases.
Thanks to Bluetooth support, the smart ring connects to a smartphone and transmits data on the wearer's sleep quality, which is then analyzed using an AI algorithm in the free SleepON App mobile application.
Main Features of Go2Sleep
What are the advantages of Go2Sleep Ring?
The gadget helps to identify possible sleep problems.
In particular, it should warn about one of the main violations – apnea.
This is a difficulty in breathing a person during sleep, due to which a person may not get enough sleep, suffer from headaches, suffocate and snore.
Go2Sleep collects information about sleep and how a person behaves when he/she sleeps. This Gadget records how a person moves in bed and how his pulse changes.
Then, based on this data, it analyzes the quality of sleep and leaves recommendations: when is it better to go to bed and what should not be done at night…
My Final Words
 I would definitely recommend Go2Sleep for sleep tracking.
It is able to monitor sleep (based on a proprietary algorithm that even evaluates the frequency of turning a person from side to side), evaluate heart rate and measure blood oxygen saturation. After collecting and analyzing the data, the system provides the owner with personalized recommendations.
This is an unusual and high-quality gadget, you can take it for yourself if you notice problems with sleep (insomnia, etc.) or as a gift to a loved one – take care, analyze the quality of sleep together.
If a person has serious sleep problems, such as insomnia, Go2sleep is unlikely to fix anything.
To get quality care, you need to consult a doctor. He/She will tell you how to deal with the problem and advise which gadget to choose
FAQs

Is Go2sleep legit?

Yes. It is Legit.

With the help of this ring, you can identify and prevent with the help of a doctor in the future the negative consequences of improper breathing or pauses in breathing during sleep.

Sleep apnea syndrome has an extremely negative effect on the central nervous system, but by indirect signs, such as fatigue, drowsiness, weakness during the day, it is not so easy to recognize it!

In other words, This Ring can help you look and see the problem from the right angle so that you can start solving it.

According to statistics, up to 60% of the adult population suffer from sleep disorders, but only a small part turns to specialists about this.

The gadget can indicate this need. That's Why it is totally Legit.

How do you use Go2sleep?

To do this, the Go2sleep device must be put on your finger before going to bed.

It will continuously monitor heart rate, blood oxygen saturation, arterial pulse signal strength, and body rotation to assess sleep quality. All data is processed by simple artificial intelligence.

Go2sleep connects to your smartphone via Bluetooth and sends sleep data to the app.

The "smart" ring will last three nights without recharging, and the built-in memory will be enough for seven days of data. The gadget is recharged at a special station, to which it is attached with magnets.

How accurate is the Sleep On device?

It is accurate enough for small sleep trackers.

Many Clinical studies have shown that Go2Sleep shows around 85 % accurate measurements.