Usually when we are choosing a pulse oximeter, we are looking at FDA clearance and other quality certificates.
We are paying attention to the reliability of the measurement also, we are paying attention to the sensors of the devices.
No matter how carefully you choose a pulse oximeter, there are so many fake pulse oximeters on the market.
That's why Today I will help you to choose the best pulse oximeter on the market.
 Today, I am reviewing Zacurate 500DL vs Accumed CMS-50D pulse oximeters.
In a Hurry? My Fast Answer is

Unfortunately none of them made it to my top #1 Oximeter list.

Let me tell you about the Wellue O2Ring – it's like the superhero of pulse oximeters, seriously!

One of the coolest things about it is that it doesn't just clip onto your finger like your average oximeter.

Nope, it's a smart ring that you wear on your finger, making it super comfortable and convenient. You won't even feel like you're wearing anything special, yet it's working its magic behind the scenes.

What sets the Wellue O2Ring apart from the pack is its continuous monitoring feature.

Most pulse oximeters just give you a snapshot of your oxygen saturation and heart rate, but this bad boy keeps tabs on your levels around the clock.

Whether you're chilling on the couch, out for a jog, or catching those Z's, it's right there with you, providing real-time data.

Oh, and speaking of data, this thing doesn't just show you numbers – it visualizes your trends over time too.

Imagine having a personal health diary that tells you when you're acing life and when you might need to take it easy. It's like having a health-conscious buddy right on your finger!

If you're already itching to get your hands on the Wellue O2Ring (or, well, your finger in this case), I've got you covered.
Zacurate(500DL) vs Accumed (CMS-50D1)Comparison
Zacurate is a well known brand of best selling pulse oximeters. They provide affordable good quality pulse oximeters.
The Advantage of Zacurate pulse oximeters is that all of them are manufactured according to the CE and FDA standards.
Thousands of customers, and dozens of clinical studies confirm that Zacurate is one of the best pulse oximeter companies.
 The AccuMed CMS-50D Pulse Oximeter is an easy and lightweight pulse oximeter that gives fast measurements. It is a good pulse oximeter with an affordable price.
From the measurements it shows oxygen saturation and pulse rate in one device.
The Pulse Oximeter can fit all finger sizes from four year old children to adults.
The advantage of this pulse oximeter is that it reads the measurements very fast. For precise readings this pulse oximeter must be used in stationary position Only.
Where Can I get Zacurate vs AcuuMed?
Highlighted features of Zacurate vs AcuuMed
Zacurate Pulse Oximeter
It has a large LED display screen which makes it easy for users to read the results. It Can register SpO2 up to 100%. It Comes with a one-year warranty.
It has an accuracy of plus or minus 2%.It has a battery life of 40 hours.
It is FDA registered Device
AccuMed Pulse Oximeter
It helps you to save battery life because it automatically turns off when a user's finger has been removed from the device.
It has two AAA batteries with around 20 hours of continuous operating time.
The LED display has a tiny silicon cover that prevents scratches and it is an FDA registered Device .
A small battery indicator can remind you when to change the batteries so a low power of pulse oximeter doesn't interfere with reading accuracy.
Zacurate vs AcuuMed Working Process
 

Zacurate 
AcuuMed
How Does it Work?

The sensor with LEDs is superimposed on the finger.

When light passes through the blood and soft tissues, it is partially absorbed, which makes it possible to determine the oxygen content in the blood.

The received data are displayed on the display of the device in the form of numbers

Passing through the blood and tissues, the light emitted by the LEDs is captured by a photosensitive element located on the opposite side of the sensor.

The degree of absorption of light waves depends on the degree of saturation of hemoglobin in the blood with oxygen.

Blood and tissues also change the color of the light passing through them.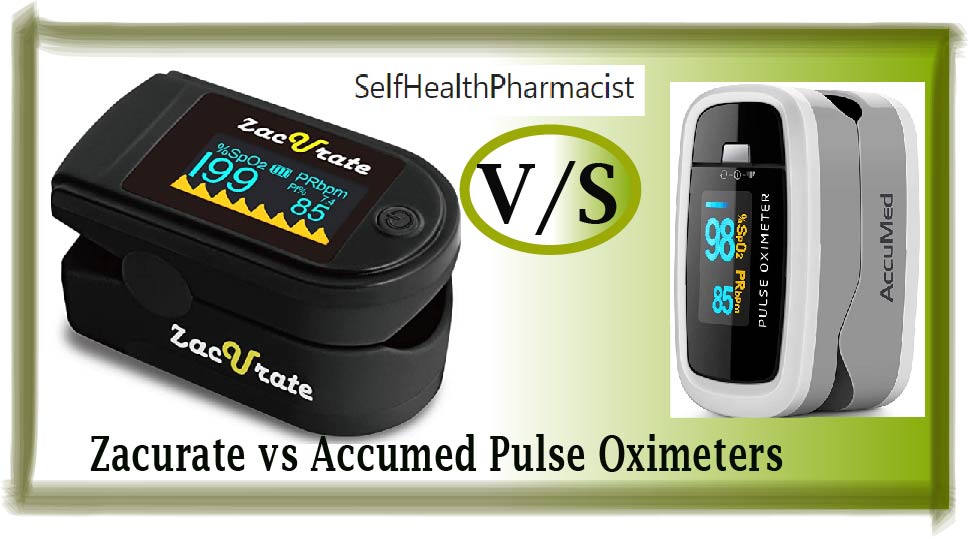 For Whom is Zacurate vs AccuMed?
 

Zacurate
AccuMed
For Whom is this?

It can fit persons of 12-years and older.

It was made for professional sportsmen and for mass screening examinations to use at home for self-monitoring of saturation of patients in various pathological conditions that cause hypoxia.

The device has a small slot for children's fingers, so it is suitable for children from 5 years old to adults.

This Pulse oximeter is widely used not only in sports, but also in medicine.
The Pros & Cons of Zacurate vs AccuMed
How to use Zacurate vs AccuMed?
 These 2 Pulse oximeters are characterized by relatively simple use.
 To get accurate measurements, It is necessary to follow the following steps:
Make sure the sensor and LED are clean. If dirt is present, they should be cleaned with alcohol or soapy water.

Place the sensor on a finger—usually the index finger, but another finger can be selected. Make sure that there is

no polish on the nail

and that there are no traces of grease on the finger.
Final Words of Zacurate vs AccuMed
In general, the main purpose and meaning of these 2 pulse oximeters is in the express assessment of the functional state, using the method of cardiointervalometry.
The convenience of using a pulse oximeter, unlike many diagnostic complexes and heart rate monitors, is that you do not need to attach electrodes, prepare for the procedure – everything happens quickly.
These 2 pulse oximeters are pretty similar, both of them are FDA approved.
Both of them were made for professional sportsmen and for mass screening examinations to use at home for self-monitoring of saturation of patients in various pathological conditions that cause hypoxia.
What to choose from these 2 pulse oximeters? I would definitely recommend the Accumed Pulse Oximeter for only 1 reason: It is suitable for all family members from small children to adults.
FAQ

Is the AccuMed oximeter accurate?

According to the AccuMed reviews and feedback it seems like AccuMed is a proven and reliable pulse oximeter with accurate measurements( Sp02 and pulse readings).

Is Zacurate FDA approved?

Yes, The Zacurate Fingertip Pulse Oximeter is manufactured according to the FDA standards and CE standards. This Pulse Oximeter is a pulse oximeter that is ideal even for sportsmen. 

How to test a pulse oximeter at home?

For this you need to make measurements in different conditions – in a stuffy room and in the fresh air.

So you must determine the lower and upper bar of your body in order to pay attention to a significant fall in the future.

If there is no difference, something is clearly wrong with the device.