What is a BiBAP Machine?
Why is the iBreeze BiPAP Machine the best home choice?
Why do we need BiPAP Machines?
Usually, after apnea detection and examination, doctors prescribe treatment with CPAP or BiPAP machines.
Apnea is a sleep disorder that leads to respiratory failure.
A person stops breathing for a few seconds (from 10 seconds), this may be accompanied by loud snoring.
Due to the narrowing of the airways, air does not enter the body in sufficient quantities, hypoxia appears. As a result, sleep is disturbed, a person becomes irritated, his working capacity decreases, memory deteriorates, intellectual abilities fall, a person complains of constant fatigue.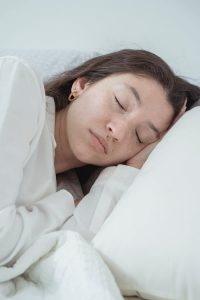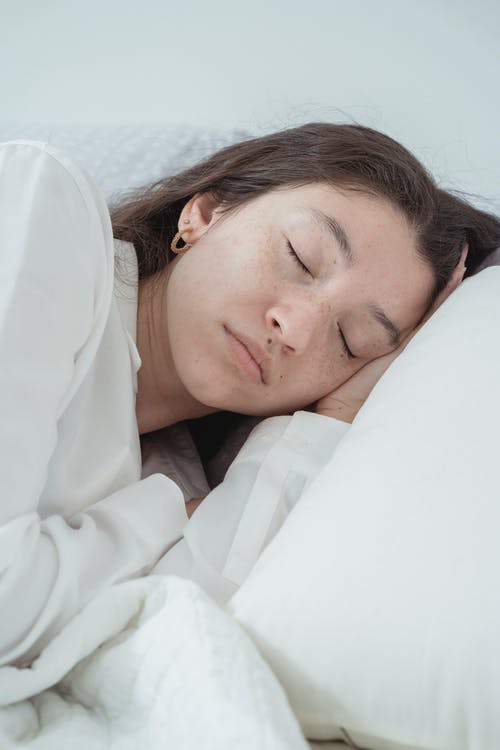 The main indication for CPAP therapy is obstructive sleep apnea syndrome.
BiPAP is mostly indicated for those patients who have the so-called hypoventilation respiratory failure, when the lungs, regardless of the presence or absence of apnea, are not filled with sufficient air for full gas exchange.
This happens with obesity-hypoventilation syndrome (Pickwick's syndrome), gross deformities of the chest (kyphoscoliosis) or severe muscle diseases.
BiPAP Machine – Our Top Pick
The iBreeze system with EVAPS (Assured Volume Required Pressure Support) automatically adjusts the optimal support pressure and delivers the preset tidal volume.
Additionally it includes a systematic solution for sleep and respiratory. This BIPAP device also includes diagnostics, treatment, and titration.
What is the difference between CPAP and BiBAP Machines?
Externally, the CPAP and BiPAP devices can be absolutely identical, differing only in the name. However, the principles of their operation have significant differences, which lead to different areas of application of devices of each type.
Even if you have already identified breathing disorders during sleep, it is very difficult to independently determine which device you need.
This is a task that a sleep doctor solves in the presence of the results of a preliminary diagnostic study and after a short trial course of treatment.
To make things even a little bit more complicated there is even an APAP machine, which I made a totally separate article here.
But knowing the difference between the two technologies of assisted ventilation for the patient will not be superfluous in order to better understand the recommendations and prescriptions of the attending physician.
CPAP machines like BiPAP machines start out on the same principle.
 It is set and adjusted to the ideal air supply (pressure) setting so that the patient can fall asleep.
Both machines, under the influence of air pressure, create a pneumatic tire that prevents the paths from narrowing. The appearance of these 2 machines is quite similar.
The BiPAP VS CPAP machines table below represents the main differences:
| | |
| --- | --- |
| CPAP MACHINES  | BiPAP MACHINES |
| 1.Accommodates changes in breathing | 1.Often used to treat more sleep and breathing disorders |
| 2.Constant set pressure during inhale and pressure relief during exhale | 2.Constant set pressure during inhale and constant set pressure during exhale |
*Please note that there is also an APAP Machine which I recommend to read about in my article:
 General Info about CPAP Machine
A CPAP machine is a device that delivers a continuous flow of air at a certain constant pressure.
CPAP machines<span style="font-weight: 400;"> are divided into two subtypes: CPAP basic; CPAP automatic.
Basic CPAP machines have two standard modes: Falling asleep and Curative.
In the falling asleep mode, the air supply pressure is lower, it switches to the treatment mode automatically (according to preliminary manual settings) and then remains unchanged throughout the night.
This is what most patients complain about, since it is difficult to get used to exhaling with constant pressure – they face resistance.
Automatic CPAPs differ from the basic ones in that after the phase of falling asleep they switch to automatic mode and themselves control the pressure from therapeutic to maximum.
The settings are entered by a doctor or a specialist. Nevertheless, the problem of exhalation pressure remains partially.
 General Info about a BiPAP Machine
BiPAP machines are intended for people suffering from COPD, CHF, central apnea and other disorders of the respiratory and neuromuscular systems.
ВІРАР supplies multilevel air pressure. Low pressure when the patient exhales and high when he inhales.
It is also recommended to purchase BIPAP devices for overweight patients, over 110 kilograms. They will be able to breathe more comfortably because they will not feel as much resistance at the exit as from CPAP.
 General Accessories for BiPAP devices
Accessories make BiPAP therapy more comfortable, and also allow you to use the device not only at home, but also while traveling. General Accessories can be:
Humidifiers. Breathing warm and humidified air is easier and more
pleasant than dry and cool air.
A moisturizer eliminates a number of side effects of therapy, such as dryness of the nasopharyngeal mucosa and, as a result, sore throat and coughing.
Converters

.

Current transformers allow the device to be used regardless of the voltage in the power source.
This is important if you travel frequently. With the help of the converter, you can connect the BiPAP machine to the cigarette lighter socket in the car or to the socket in the train, bus and airplane.
Filters. Filters clean the blown air from mechanical impurities (animal hair, dust), reducing the risk of allergies.
They should be changed as they become dirty, but at least as often as recommended by the manufacturer.
Hoses. You can choose a longer hose, and also replace the standard model with a heated one. In the latter case, the humidifier will maintain the optimum temperature and humidity regardless of environmental conditions.
This will eliminate the risk of condensation forming in the mask or hose.
Why is the iBreeze BiPAP Machine the best home choice?
 The iBreeze BiPAP Machine can become The Best BiPAP Machine for your home use.
The iBreeze BiPAP Machine is perfect choice for treating patients with respiratory insufficiency and especially sleep apnea, COPD (Chronic Obstructive Pulmonary Disease), OSA
(Obstructive Sleep Apnea), CSA (Central Sleep Apnea), OHS (Obesity Hypoventilation Syndrome) etc. 
The device provides high-quality BiPAP therapy.
By analyzing the physical condition of patients in real time using the REG algorithm, the device automatically maintains optimal pressure and humidity.
It is very Suitable for home use. To get 10% off iBreeze keep reading our review, and find our hidden discount code.
The BiPAP iBreeze Machine includes a systematic solution for sleep and respiratory. The BIPAP machine also includes diagnostics, treatment, and titration.
For patients with severe breathing problems, tidal volume is one of the most significant parameters for maintaining oxygen saturation.
The iBreeze system with EVAPS (Assured Volume Required Pressure Support) automatically adjusts the optimal support pressure and delivers the preset tidal volume.
The unique IPR (Intelligence Pressure Release) algorithm allows patients to more comfortably tolerate ventilation therapy during inhalation and exhalation.
For greater personalization, 3 IPR classes are available.
The bi-level pressure mode creates a potentially more comfortable breathing and sleeping environment for the patient.
The increased convenience of this type of ventilation consists in significantly facilitating inhalation and reducing the load on the respiratory muscles.
At the beginning, the patient easily takes a deep, full breath with the help of the device, and then, due to the decrease in the pressure on the exhalation, he/she does not have to overcome the resistance of the powerful air flow.
In other words, during iBreeze BiPAP treatment there is no unpleasant sensation on exhalation " into a glass".
This may be of fundamental importance for those patients with obstructive sleep apnea who, due to the severity of their illness, require an extremely high level of therapeutic pressure.
iBreeze BiBAP Machine Categories 
Basic BiPAP is the simplest version of the BiBAP Machines..
In its parameters, settings for the power of pressure during inhalation and exhalation are entered during the period of falling asleep, as well as during the treatment process. In the treatment mode, the device operates in a two-level constant pressure mode. 
Automatic BiPAP Machine Mode. The basics of its work are similar to those of the Basic BIPAP, but there is still a difference.
It has automation. When switching to the treatment mode, the device independently selects the necessary pressure for the patient and maintains a constant gap during inhalation and exhalation. This feature provides effective treatment and patient comfort. 
BiPAP with S / T mode – the device is designed for the most difficult cases. For patients with ALS and motor neuron disease, as well as with frequent central respiratory arrest.
If the machine is configured correctly, then in the event of the patient's breathing cessation (passing inspiration or expiration), it begins to function as an artificial ventilation of the lungs.
Sometimes there are times when the patient's muscles are too weak and it is difficult for him to breathe out.
With some problems in the work of the brain, the patient seems to "forget" that he needs to breathe, in particular, during sleep.

S /T mode allows the doctor-somnologist to set the minimum frequency of breathing.
The BIPAP apparatus of the specified class monitors breathing. If the breathing rate increases, the device provides assistance with a sigh, and if the breathing rate decreases, the device takes breaths for the patient forcibly. 
Peculiarities of iBreeze BiBAP Machine
Maximum inspiratory pressure 30 cm H2O in automatic ST mode;

Independent moisturizer, better hydration;

iBreeze series intelligent humidifier was made with a plug and seal water tank.
The System always monitors the level of water, and then it stops heating and gives an alert in order to avoid a person's discomfort.

Volume assurance mode;

Fast rise time;

Good synchronization with higher peak flow. 

Ergonomics design. It makes it easy for patients to operate.

Integrated heating tube. It offers a safer protocol to avoid water condensation during ventilation at night.

The unique Intelligent Pressure Relief (IPR) function allows you to breathe easier while you sleep for maximum comfort.

Treatment results can be transmitted to the attending physician using a special iMatrix application, which can be installed on an iOS or Android smartphone, as well as on a Windows-based desktop comput

er.


Patients can connect to a reserved cloud data server. It has Wi-Fi, Wireless module, Cellular, and SD card storage.
Accessories "Track Aid" of iBreeze BiBAP Machine

 
1.O2ring is a wireless ring oximeter and it helps to keep recording a patient's blood O2 and pulse rate for a long time.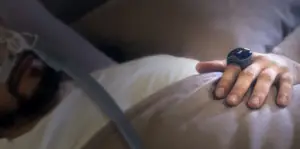 After, Full data can be reflected in the patient' s report, which offers a comprehensive overview for night time pulse oxygen saturation.
2. Touch screen. With a touch screen, a patient can operate the breathing machine very easily. The patient can set major values, switch between different modes, and even manage therapy data.
3. The iBreeze BiPAP Machine comes with a full face mask of 3 sizes. A full face mask can make a heavy-duty seal. It's a good decision for users who need higher pressure (approximately 20 cmH2O) during all therapy.
 4.Very.Power supply adaptor (voltage suitable for the US, the EU and other countries).
An Air outlet connector
6.Air filters (2pc.)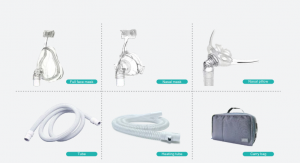 7.SD card (4 GB or above). 
Medical indications for using iBreeze BiBAP
Before using the iBreeze BiBAP Machine you mustn't have the following conditions and diseases:
Chronic obstructive pulmonary disease (COPD)

Neuromuscular diseases (ALS, Duchenne muscular dystrophy)

Respiratory failure, triggered by deformity of the chest, for example, with kyphoscoliosis.

Obstructive sleep apnea syndrome (OSAS) with intolerance or lack of therapeutic effect from CPAP therapy.
Hypoventilation of the lungs during sleep caused by obesity, central sleep apnea syndrome, Cheyne-Stokes breathing, etc.
 

Main Technical Characteristics of iBreeze BiBAP Machine:
Weight

1.35 kg;

Dimensions

22.2×12.5×12.2 cm;

Screen

: 5 ", color, touch;

Noise level

(ISO 80601-2-70) ≤ 28 dB;

Modes

: CPAP, S (30) đ Auto S (30), S / T (30), Auto S / T (30), T (30), PC;

CPAP pressure range

4-20 cmH2O;

IPAP pressure range

4-25 cmH2O / 30 cmH2O;

EPAP pressure range

4-25 cmH2O;

Static pressure accuracy

0.5cmH2O;

Dynamic pressure accuracy

1 cmH2O;

PS (Pressure support)

0-10 cm H2O;

Respiratory rate

(reserve rate) 0-50 bpm;

Rise time

Min 150–900 ms;

Inspiratory trigger sensitivity

Auto, 1-5;

Expiratory sensitivity

Auto, 1-5;
Benefits of iBreeze BiPAP Machines
BiPAP has a number of advantages 
Not only eliminates airway obstruction, but also increases the volume of inhaled air, contributing to the saturation of blood with oxygen and the removal of carbon dioxide.

Allows you to maintain the patient at a higher therapeutic pressure.

Reduces the load on the respiratory muscles: it facilitates inhalation and does not create difficulties during exhalation.

Provides the opportunity to choose the optimal therapeutic regimen in accordance with the needs of the patient and taking into account his diagnosis.

Allows extremely accurate synchronization of the device with the patient's breathing.

Provides a more comfortable environment for a night's rest.
BiBAP Machine – Conclusion
iBreeze BiPAP machines have already helped and improved the lives of thousands of users, made their sleep nicer and canceled hospital admission.
The fact that the devices are freely sold does not mean that the patient himself is able to prescribe a treatment for himself, choose a device and engage in therapy.
Ventilation of the lungs at home is too difficult an important process, which implies personal prescriptions and strict adherence to them. 
BiBAP Machine – Final Words
Remember that BiPAP machines cannot be considered better than CPAP.
For each device there is a list of diseases, in the treatment of which the therapeutic potential of the devices is revealed as fully as possible.
If you decide to purchase The iBreeze BiPAP Machine Don't forget to use the Coupon available for our readers:SELFPAP to get 10% off.
To further understand which machine you need being CPAP, APAP or BiPAP have a quick look at this article: