When reading about CPAP machines or speaking with your doctor about them, you may have noticed that there are a variety of types that are used to treat sleep apnea. These generally include:
Let's take a closer look at each of these varieties to help you decide what might be best for you.
What Kind of CPAP Machine Do I Need – Basics
After you figure out what fits your needs and preferences the best, take this information to your doctor—whether it's your first time seeking CPAP treatment or you're looking to upgrade your current CPAP (which should be done about every 5 years or so).
Note: A prescription from a physician is required to purchase a CPAP machine, and the prescription should be dated from within the last year.
CPAP machines
CPAP stands for continuous positive airway pressure. It provides a continuous and constant airflow at a fixed pressure setting to prevent the airways from collapsing.
One of the biggest adjustments to using a CPAP is exhaling while receiving the continuous airflow from the CPAP machine.
Most CPAP machines are manufactured with a different setting that senses and reduces the air pressure when the user is exhaling (Philips Respironics calls this setting CFLEX, AFLEX, or BiFLEX, Resmed calls it expiratory pressure relief [EPR], and Fisher and Paykel calls is SensAwakeTM).
However, CPAP users will likely find that the CPAP pressure setting and/or the setting for exhalation (eg., EPR) changes throughout treatment. Factors that cause changes in pressure needs include:
Nasal conditions or seasonal allergies
Alcohol use
Use of sedatives
Use of cold/flu medications
Therefore, users will have to pay attention to when their current settings no longer work for them and have the settings adjusted.
CPAP machines are generally prescribed first because they cost less and typically work well with most individuals.
Auto CPAP/APAP machines
Auto CPAP machines use automatic positive airway pressure (APAP). They are automatic in that they are constantly titrating (or measuring and adjusting) the air pressure produced by the machine.
This provides a great solution to the issue with CPAP machines outlined above, as they are manufactured with technology that continuously senses the air pressure and adjusts it based on your inhalation needs.
APAP Machine – Our Top Pick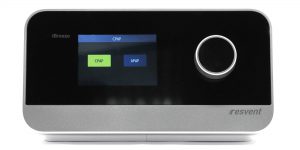 An ultra-high-tech device that combines a set of advanced features with an affordable price.
Analyzing the physical condition of the patient using the REG algorithm, this APAP device automatically maintains the optimal pressure and humidity of the air entering the respiratory tract. Keep Reading down below for more features.
Here is my detailed review of an APAP machine:
APAP Machine. What's the difference between APAP Machines and CPAP Machines?
APAP machines are set within a low and high pressure range that is determined and prescribed by your physician.
Given the added benefit of automatic airway pressure adjustment, Auto CPAP machines are typically a bit more costly compared to CPAP machines.
BiPAP machines
BiPAP machines generate two different types of airflow—one for inhalation and one for exhalation. It allows you to control the pressure when the user inhales (IPAP) and when the user exhales (EPAP) to help facilitate breathing.
BiPAP machines are generally the most expensive and typically given to individuals who have specific needs (for example, it is often used for patients who have central sleep apnea or amyotrophic lateral sclerosis [ALS] or Parkinson's disease).
BiPAP Machine – Our Top Pick
BiPAP Machine is the best home choice? 3″ src="https://selfhealthpharmacist.com/wp-content/uploads/2021/11/k-300×162.png" sizes="(max-width: 300px) 100vw, 300px" srcset="https://selfhealthpharmacist.com/wp-content/uploads/2021/11/k-300×162.png 300w, https://selfhealthpharmacist.com/wp-content/uploads/2021/11/k.png 600w" alt="What is BiBAP Machine? Why iBreeze BiPAP Machine is the best home choice?" width="300″ height="162″ />
This device provides high-quality BiPAP therapy. It's perfect choice for treating patients with respiratory insufficiency and especially sleep apnea, COPD (Chronic Obstructive Pulmonary Disease), OSA (Obstructive Sleep Apnea), CSA (Central Sleep Apnea), OHS (Obesity Hypoventilation Syndrome) etc. 
Check out The Latest Price Here
To understand more of how a BiPAP machine works, please read my article here:
What is BiBAP Machine? Why iBreeze BiPAP Machine is the best home choice?
Travel CPAP machines
Travel CPAP machines are smaller and lighter than the typical CPAP machines, making them portable and great for traveling, camping, overnight flights, etc.
They are just as effective as their larger, standard counterparts and provide just as much power and air pressure. In addition to being light and compact, some travel CPAP machines are battery operated.
This is convenient if you're backpacking or camping without a power source or on an overnight flight.
What Kind of CPAP Machine Do I Need Final Words
Travel CPAP machines also make great options for backup machines, in case your current CPAP machine breaks.
Additionally, the battery-operated ones or a portable backup CPAP battery are good to have handy in case of a power outage.
Best Portable Power Pack for CPAP (Reviews and Buying Guide)
This is an excellent comparison chart that compares some of the best travel CPAP machines and outlines their different features.
References for What Kind of CPAP Machine Do I Need
CPAP. Sleepapnea.org. American Sleep Apnea Association. https://www.sleepapnea.org/treat/cpap-therapy/choosing-a-pap-machine/difference-between-cpap-auto-cpap-bilevel/. Accessed September 2022.