BEST Travel CPAP Machine
In any treatment, the main thing is consistency.
CPAP therapy, like any other treatment, does not tolerate long breaks and episodic relationships.
 Remember with any uncoordinated break your health will return to the starting point from which you started.
https://selfhealthpharmacist.com/what-are-sleep-apnea-and-cpap-therapy/
Manufacturers of CPAP devices are well aware that even in matters of health, the need for comfort has not been canceled.
Sleep apnea is no longer a barrier to travel and an active lifestyle. 
You probably do not always spend the nights at home, maybe you have a favorite job that requires frequent business trips, or maybe just once a year you go on vacation .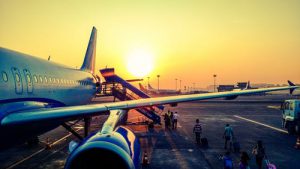 But today there are many small CPAP Machines which completely change the idea of a portable CPAP device.
These CPAP Machines are the smallest and lightest in the world, they will easily fit not only in your travel bag or backpack, but even in your jacket pocket.
So there are a few questions you might have when you want to travel with CPAP Machine:
https://selfhealthpharmacist.com/what-kind-of-cpap-machine-do-i-need/
What about a CPAP machine? 

Should I take it with me?
 Is it allowed on the plane?
 What if, in the country I'm flying to, I do not have suitable sockets for my device? 
And if it breaks, where can I go?
https://selfhealthpharmacist.com/backpacking-with-sleep-apnea/
CPAP Travel Machine And Travelling by Plane 
1.Always take your CPAP machine with you into the cabin as a carry-on baggage.
 And do not be confused by this, the weight of your device will not be taken into account, just like any other medical equipment.
However never forget to take with you the original manual, a medical declaration and a copy of the certificate with the diagnosis, as well as the prescribed treatment, translated into English.
2. If the flight is long, we recommend that you once again familiarize yourself with the rules for using the CPAP device, as well as with the rules of the air carrier. 
3. Check in advance with the airline staff about the availability of power outlets next to your seat. There is a possibility that you will have to bring your own cables or adapters.
You will be stopped at the Customs control (plane, train, personal car).
5. The CPAP machine is classified as a personal life-supporting medical device, therefore it is not subject to tax or any other customs duty conditions.
 Travel CPAP Machine. What should we pay attention to?
Several problems are addressed in the design of a medical device intended for use by travelers. 
1. Size – The CPAP travel machine is usually small and as light as possible, so it is easy to transport.
It can be supplied with its own carrying case to protect it from damage, with compartments for storing accessories so that all CPAP consumables are in one place, reducing the risk of loss.
2. A CPAP travel machine may also include a humidifier if needed. It can be supplied with a plug adapter and a transformer in case it is needed in an area where power supplies and plugs differ. 
Other designs include battery backup to power the device during a power outage or in an area with no electricity, and some come with solar panels that can be used to generate energy.
 So What is the Best Pocket Travel CPAP Machine?
HDM Z2 Travel CPAP Machine with Z-Breathe
What is so special about this CPAP Travel Machine?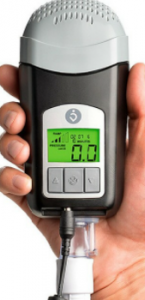 The first thing that attracts attention is the model itself.
It is the ultra-compact dimensions. The Z2 fits easily in the palm of your hand and weighs only 300 grams, so you'll never have to worry about placing your CPAP machine in your luggage again.
In fact, it is one of the lightest. CPAP machines on the market. The Z2 is designed for use while sleeping, so it generates very little noise during operation – no more than 26 dB.
What additional features does it have?
 The device is supplied with a built-in unit of the moisture exchange and humidification system (HME or Heat Moisture Exchange), based on hygienic disposable filters.
The HME absorbs heat and moisture from the exhaled air and returns it to your inhalation air stream, preventing drying out of the airways. According to the manufacturer, this unit can work without changing filters for at least seven nights. 
You will be able to sleep peacefully and wake up without a sore throat and dry throat.
One of the biggest problems faced by patients using CPAP is difficulty in exhaling against pressure.
 Z-Breathe is a unique technology developed by HDM that allows the device to read an individual pattern of the respiratory cycle, and based on this, automatically reduce the air flow pressure during exhalation, returning to the set values during inhalation.
This technology significantly improves patient comfort while using the Z2 CPAP.
Read our article about CPAP Machines for home use: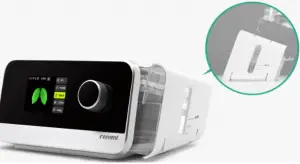 The Z2 at altitudes up to 8,000 meters above sea level and is also approved for use in the cabin.
Wherever your journey takes you, your CPAP machine will always provide comfortable and safe sleep therapy.
You will always receive exactly the pressure that your doctor prescribed for you. The Z2 automatically compensates for minor air leaks, for example, when getting used to the device or a new mask.
If an excessive leak is detected, which could be detrimental to therapy, the device screen will instantly warn that it will should be repaired as soon as possible.
For those who prefer to fall asleep with therapy at lower pressure levels, the Ramp Feature is the ideal solution.
The device gradually raises the pressure in the circuit for a certain time – from 0 to 45 minutes (adjustable by the patient), so while the patient falls asleep, his breathing will be absolutely natural.
You will feel free to take your Z2 Travel CPAP with you on any trip. Even where there is a risk of being left without a constant source of energy, this device will again rise to the top.
The PowerShell Wireless Power Supply (optional) with additional batteries is an innovative solution that guarantees absolute reliability and uninterrupted operation of the machine, even when no power outlets are available.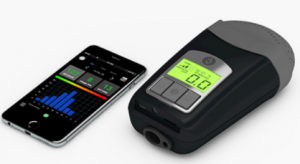 PowerShell's neoprene cover securely holds both the device itself and the rechargeable lithium-ion battery, the capacity of which provides 8 hours of operation without recharging.
To ensure longer battery life, you just need to buy additional batteries (each weighing no more than 250 g).
PowerShell comes with a handy strap that allows you to conveniently hang your PSU and apparatus at the head of your bed or in a camping tent.
 

CPAP Travel Machine. Important to know when you Stay abroad
Different countries have different plugs and voltage in them. In this case, modern CPAP devices are able to automatically detect and re-adjust to the proposed voltage.
But it is better to purchase adapters for turning on the plug of the device in advance (if they do not match).
This can even be done at the airport. In addition, if you have to spend the night at the hotel, it is also better to worry about the extension cord in advance – after all, there may simply not be an outlet next to your bed.
TRAVEL CPAP MACHINE – FINAL THOUGHTS
CPAP therapy for obstructive sleep apnea syndrome should be carried out continuously and it is important not to interrupt treatment even on business trips or on vacation.
Naturally, no one wants to limit their activity due to the fact that there is a need to use the CPAP apparatus every night.
Fortunately, the latest developments in CPAP technology and design provide a lot more options for the travel enthusiast.