Before purchasing a pulse oximeter, you should study the devices that are on sale and read reviews on them.
When buying, it is important to pay attention to functionality, quality, brand, price, and so on.
That's why Today, I am comparing 2 popular pulse oximeters:
Yuwell YX 102 and ChoiceMMed MD300C21C…
Yuwell Finger Pulse Oximeter YX 102 as any pulse oximeter has two main functions – pulse detection and blood saturation.
With this device you can in just 8 seconds can determine the heart rate and the level of oxygen in the blood without the need for blood collection.
This Pulse Oximeter will be relevant for those who are actively involved in sports and they need to constantly know accurate measurements of their heart rate.
Choicemmed MD MD300C21C Pulse Oximeter is a portable pulse oximeter that is designed to determine the heart rate (in other words, pulse) and measure the level of oxygen in the blood.
This device will be ideal for people undergoing oxygen treatment, as well as for doctors whose patients are under anesthesia.
Do you know that pulse oximeter can help you in detecting a sleep apnea?

Oxiline Pulse X Pro is currently the best fingertip pulse oximeter on the market with the easiest adjustment to your smartphone.

It can measure your Saturation Measurements and Perfusion Index in several seconds with 99% accuracy!

It can be used by both professional specialists and ordinary users at home. The latch fits snugly to the finger and does not move out during operation.

The gadget consumes a minimum of energy, so it does not require frequent replacement of batteries.
Yuwell vs Choicemmed Detailed Information
Technical Characteristics
ChoiceMMed MD300C21C
Measures blood

oxygen saturation

and pulse rate

Can be used at home and in medical settings

Allows athletes and people undergoing

oxygen

therapy to assess their condition

Has 6 information display modes

Displays a plethysmogram to assess the functioning of

the central nervous system

Runs on 2 AAA batteries

Color LED display has 10 brightness levels

Equipped with a low battery indicator

Automatically turns off 8 seconds after being removed from the finger

SpO2 measurement 70%-99% (maximum error 3%)

Size: 60mm x 34mm x 30mm

Weight: 50 gr
Yuwell YX 102
Measures blood

oxygen saturation

and pulse rate

Allows athletes and people undergoing

oxygen

therapy to assess their condition

Displays a plethysmogram to assess the functioning of

the central nervous system

Has 4 information display modes

Runs on 2 AAA batteries

Color LED display

Equipped with a low battery indicator

Automatically turns off 5 seconds after being removed from the finger

SpO2 measurement 95%-99% ( +- 1% accurate)

Size: 58mm x 32mm x 34mm

Weight: 54 gr
Producer
СhoiceMMed
СhoiceMMed is a Chinese company that produces different types of pulse oximeters and medical devices for home and professional use.
It is quite a well-known medical equipment manufacturer that was founded in 1993 in Beijing, China.
The disadvantage of Choice med pulse oximeter is that it does not have  FDA approval.
Yuwell
It is produced by the Chinese Lety company.
It is a professional medical supplier in China. The company pays a significant attention to customer care and satisfaction.
The Company's vision is to provide world-class products and services, to improve worldwide health-care systems level.
Working Process
ChoiceMMed
The Choicemmed MD300C21C pulse oximeter runs on two AAA batteries and provides the transfer of all information in 6 modes, including the ability to show a pulse histogram, which experts will definitely appreciate.
 This pulse oximeter is a portable device that turns on when put on your finger.
It starts working immediately, displaying the above information on a large LED display that occupies its entire surface.
The large color LED display can be individually adjusted with 10 levels of brightness, and the automatic shut-off 8 seconds after removing the pulse oximeter ensures efficient battery consumption.
The device looks great and has a hanging cord included, so it won't get lost.
Yuwell
For measurements, the Yuwell  oximeter is worn on the finger.
Inside the case is a silicone membrane, which is pleasant and tight to the skin. Directly in the membrane is a sensor that measures all indicators.
Obtaining accurate data is carried out due to the spectrophotometric method for assessing the level of hemoglobin.
To start the measurement, just press one button, and the results will be displayed on the color OLED screen within 8 seconds.
In addition to the basic data, the display shows information about the level of the remaining charge.
Thia oximeter is powered by two AAA batteries, the capacity of which should be enough for 6-12 months of operation.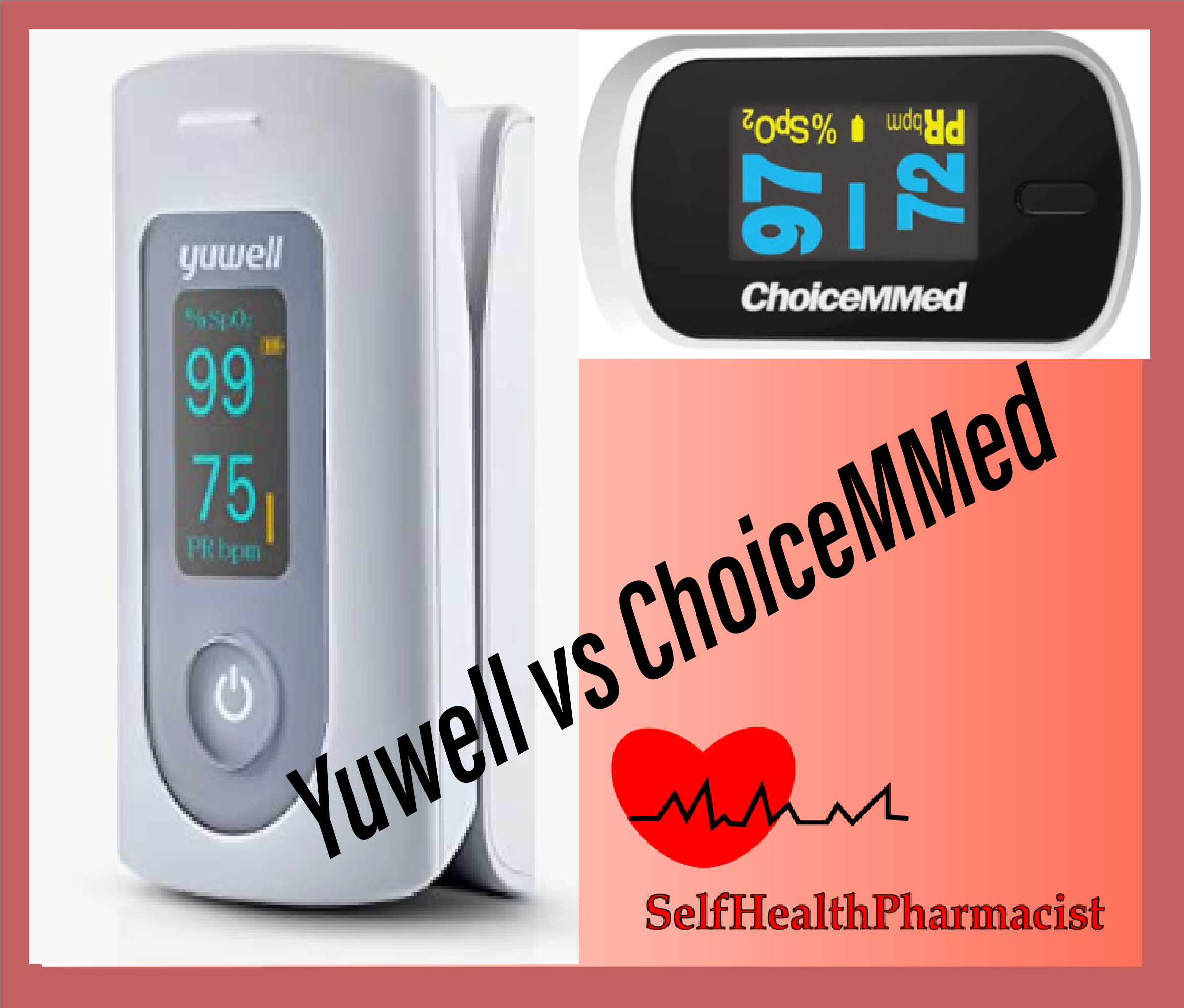 My Experience of Yuwell and ChoiceMMed 
Yuwell Pulse Oximeter
The box contained the device itself, a strap, and a few instructions in Chinese.
The readings of this pulse oximeter can change, the pulse not always corresponds to that measured on other devices.
And even my level of oxygen saturation of capillary blood during the experiments dropped to 80.
Of the features of the device:
– When you press the power button during operation, it flips the value on the screen for easy viewing.
– Inside the device is a very pleasant tactile silicone coating.
– Measurements are reflected very quickly, delays are minimal, because the polling rate is quite good.
– The nail must not be varnished, otherwise the device will not be able to obtain correct readings.
In general, this type of pulse oximeter copes with its task not for 100%.
ChoiceMMed MD300C21C
The device itself is small in size and light in weight. The finger does not pull.
I tried to measure on different fingers, periodically changed hands, but the indicators are the same everywhere.
In addition, it is not recommended to measure in the presence of varnish and gel polish.
I wear ordinary nail varnish, but personally for me, this does not affect the saturation indicators – I tried to carry out this manipulation on clean nails.
As for gel polish, I don't know – I can't say personally.
But many of my friends also measure with gel polish – so far everything is fine.
But this is as long as you are healthy and there are no complaints. In case of illness, it is better, of course, to adhere to the rules so as not to miss complications.
The device can set a different level of display brightness (there are already 10 of them).
The default is level 4. I tried all the levels – in principle, there is not much difference.
And the batteries save a lot. Came back again in level 4.
Final Words of What is Better to Choose Yuwell vs Choicemmed?
These 2 models have compact dimensions, and they are equipped with fairly large LED displays, they have the ability to adjust the brightness level, which allows you to use the devices in any light too.
But I would definitely recommend the ChoiceMMed MD300C21C Model because of its high accuracy of indicators, ease of use.
As for Yuwell, I am not happy with how it measures the level of oxygen saturation. The measurements during the experiments dropped to 80 and then again to 97. Although, it is considered to be a sports device.
FAQ
How to Choose a Good Pulse Oximeter?
Look at the following criteria:
Accuracy. This is the most important factor when choosing a device. It is necessary to check its technical characteristics for the percentage of error before buying. 
Display. The screen of the device must be large and clear in order to read the readings well.
Finger Size.
It usually ranges from 0.3 to 1 inch. If you need a pulse oximeter for an adult, choose a model with a 1-inch probe, while for children, a probe smaller than 0.6-inch is suitable.
How Accurate Should a Pulse Oximeter Be?
Absolute accuracy of SpO2 measurement: in the range of values from 90 to 100%.
On Which Finger Should Oxygen be Measured?
It does not matter which finger to measure saturation with a pulse oximeter.
But in most cases, place the pulse oximeter on the index finger. To determine the heart rate and saturation level, you need to wait 10-20 seconds.