Good sleep is essential for physical and mental health.
To feel good, think fast and even lose weight, you need to get enough sleep.
Today I want to compare a selection of gadgets that will help you sleep better and healthier: Oura Ring vs Apple Watch.
Depending on your purposes, this article will give you an idea of what to purchase and how to use it for sleep improvement…
In a Hurry? My Fast Answer is

Unfortunately none of them made it to my top #1 Oximeter list.

Let me tell you about the Wellue O2Ring – it's like the superhero of pulse oximeters, seriously!

One of the coolest things about it is that it doesn't just clip onto your finger like your average oximeter.

Nope, it's a smart ring that you wear on your finger, making it super comfortable and convenient. You won't even feel like you're wearing anything special, yet it's working its magic behind the scenes.

What sets the Wellue O2Ring apart from the pack is its continuous monitoring feature.

Most pulse oximeters just give you a snapshot of your oxygen saturation and heart rate, but this bad boy keeps tabs on your levels around the clock.

Whether you're chilling on the couch, out for a jog, or catching those Z's, it's right there with you, providing real-time data.

Oh, and speaking of data, this thing doesn't just show you numbers – it visualizes your trends over time too.

Imagine having a personal health diary that tells you when you're acing life and when you might need to take it easy. It's like having a health-conscious buddy right on your finger!

If you're already itching to get your hands on the Wellue O2Ring (or, well, your finger in this case), I've got you covered.

Check out their official product page here.



Oura Ring vs Apple Watch Chart
 

Oura Ring
Apple Watch
What is this?

Oura Ring is a trendy wearable ring that tracks

key sleep metrics

and can alert you to minor health or body changes.

It is a great

fitness tracker

that counts your every move.

They provide useful data about your health.

With this, all important connections, useful information and favorite content are always with you.

How To Wear?
You can wear it day and night when you work, swim or bathe.

It is not much larger than an ordinary ring, and no one will suspect that this is advanced technology.

Medium, ring fingers are not the best options to wear the ring, because the device can unpleasantly pull the skin due to its thickness.

Ideal options for wearing a smart ring are the index and thumb or little finger.

To get the most accurate results, wear the watch on the wrist, Taptic Engine, and electrical and optical

heart rate sensors

must be in contact with your skin.

Properly fitting your Apple Watch to your arm (it should fit snugly around your arm without being overly tight and allowing your skin to breathe) will ensure that you are comfortable to wear and that the sensors are working properly.

Where Can I buy It?

You can Buy It

Here on the Official Website…
What Can Oura Ring vs Apple Watch do?
Oura Ring tracks some of the day's main activities, including steps, equivalent walking distance, and calories.
The Oura Ring works more as a sleep tracker and the ring has smart and alert notifications if there are some saturation changes.
It has a "smart alarm" – then the clock wakes you up in the "correct phase" of sleep, as a result you feel more alert and easier to get up.
However, the Apple Watch and other dedicated fitness trackers do a better job of this.
The basic functions of the Apple Watch are: receiving notifications directly from the watch, from sports applications for fitness or sports, it measures the saturation, heart rate and your sleep,  the ability to monitor weather changes, make calls or interact with Siri on the go.
How Does Oura Ring vs Apple Watch Work?
 

Oura Ring
Apple Watch
What sensors does it have?

Oura Ring has three categories of sensors.

Oura crammed several sensors into this little gadget.

These include infrared heart rate and respiration sensors, a body temperature sensor, and a 3D accelerometer for movement.

Each Apple Watch has a variety of sensors that are used for one purpose or another.

It depends on the Apple Watch model.

Usually the apple watch is equipped with an optical heart rate sensor for measuring heart rate and tracking heart rate , as well as a GPS module that determines your location with high accuracy.

How Does it work?
Infrared sensors track your heart rate, HRV and breathing.

It uses LEDs on either side of the finger for a more accurate reading than single-sided sensors on other wearables.

The temperature sensor monitors your skin at night and can detect changes as small as 0.1 degrees Celsius.

The accelerometer detects your nighttime movement.

Combined with algorithms that determine your sleep stages, it can tell you how much time you spent in deep, light and REM sleep.

It can also tell you when your sleep was disturbed and you woke up.

Accelerometer receives motor stimulations.

Gyroscope helps to detect the movement of your body, always knowing whether you are standing or not.

This allows Apple Watch to more accurately detect movements of any part of the body, even when the device itself is on the wrist.

The heart rate sensor is capable of measuring heart beats per minute, and the latter detects electrical activity…

Barometric altimeter

is able to determine the height you are at, above sea level or above the ground.

Being barometric, it bases its measurements on the relationship between atmospheric pressure and altitude…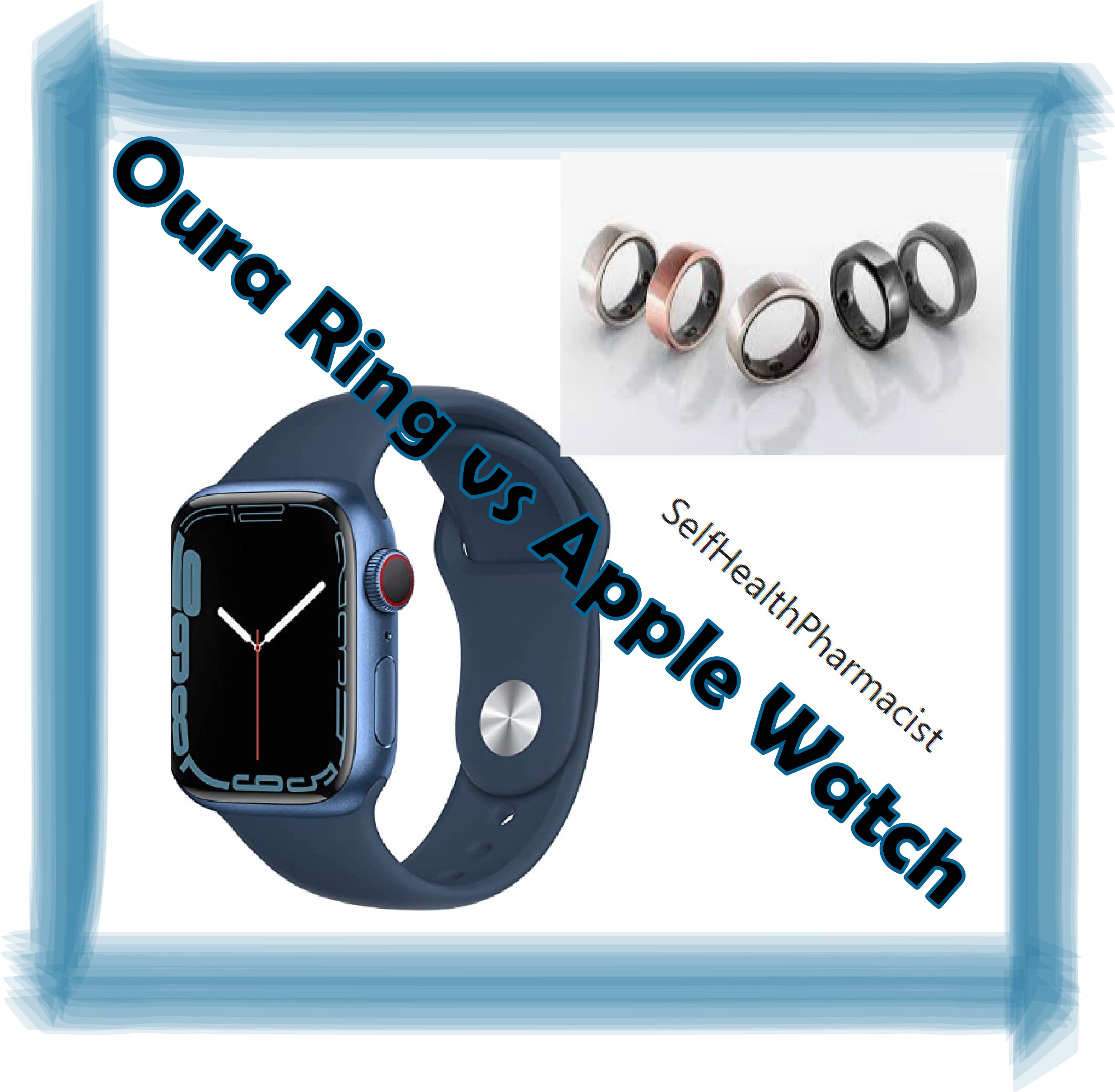 How To Choose The Right Size of Oura Ring and Apple Watch?
 

Oura Ring 
Apple Watch
What's the right Size?

When you order a ring, the company first sends you a kit that includes plastic rings in different sizes.

Once you find the right size ring, Oura recommends wearing it for a full day before confirming.

This is because the size of your finger may vary slightly in different conditions.

 

Now smart watches from Apple come in two size ranges: 40 and 44 mm.

The 40mm version of the Apple Watch is designed for 130-200mm wrists, while the 44mm version of the Apple Watch is designed for 140-220mm wrists.

In addition, the 40 mm version features a display that is 25% smaller than the older version.
Is the Oura Ring More Accurate than the Apple Watch?
It is impossible to answer this question because  Oura Ring and Apple Watch are not competitors, they are different types of devices.
Oura Ring  is considered to be a device for health that can show a higher heart rate and resting temperature and tell you something's going on with your body.
It's not a doctor or a fortune teller, but when it sees the data suddenly change, it can alert you that something might be wrong.
The Apple Watch is a fitness tracker mostly.
On Apple Watch, you can create sleep schedules, track sleep quality, measure your breathing rate while you sleep, get sleep trending reports, and measure your sport achievements.
My OWN Experience of Are Oura Rings worth it?
This device came as a pleasant surprise for me. I spent a week with it and realized that it is much more convenient than a smart watch, although in some scenarios the ring loses functionality to a wrist device.
Firstly, I liked the fact that the smart ring is invisible on the hand and does not distract.
When you have a watch, you always want to see the time, go in to review some notifications, play with the dials, there is a temptation to look through photos, use other functions.
With a ring, there is no such temptation and therefore you are more focused on work or training.
Secondly, very cool tracking of all indicators. For starters, this is about sleep indicators.
As for me, sleep tracking here is at the level of medical devices, because you can clearly see: when you went to bed, when you woke up at night, the distribution of sleep phases.
In fact, sleep tracking, it would seem, is not an important feature for everyone, but when you really start tracking it, your well-being, productivity and desire to do anything improve.
The heart rate is very nice as well. You can watch it on the chart by day, in real time.
Women's health tracking metrics are in beta, and blood oxygen measurements will only appear in early 2022, so I'm not picking on these features yet.
Well, I would also like the ring to become a little thinner. Then one could wear it on the ring finger or even use it as an engagement ring.
My Final Words
So, dear readers, what to choose depends on your purpose.
If you want to get accurate measurements while you are sleeping then get an Oura Ring Gen 3 if you want to get more info about sport measurements then get an Apple Watch.
The Oura doesn't track as many daily measurements as the Apple Watch, but it's a nice addition to the Apple watch.
First, it tracks sleep better. It also has a more consistent definition for heart rate variability (HRV).
Apple Watch and Oura Ring together pack your data into a handy and easy-to-understand package.
FAQs

Does Oura App Work with Apple Watch?

Oura Ring has its own app for iOS and Android with which you can track the above metrics and see daily, weekly and monthly measurements so you can track your health over time.

Can I wash my hands with my Oura Ring on?

The design of the Oura Ring is waterproof.

You can safely wash your hands, but the manufacturer does not recommend diving with it to depth.

Is Oura Ring FDA approved?

The FDA is responsible for maintaining public health through the regulation and oversight of the safety of food, tobacco products, dietary supplements ,pills (both prescription and over-the-counter), vaccines, and medical devices.

Yes, The FDA has cleared the Oura ring.

Does Oura work with Apple Health?

With full integration with the Apple Health app and the Google Fit app, you can use these apps to view the data on your Oura Ring.