If you have been diagnosed with sleep apnea and advised to use CPAP Machine you may be overwhelmed with how to choose a mask and not be able to understand what nasal liners are.
This CPAP mask liners style might just be the interface you need to overcome certain CPAP portability issues like claustrophobia and air leaks.
Find out if CPAP nasal pads and mask liners masks are right for you and how to choose the best one by reading this article.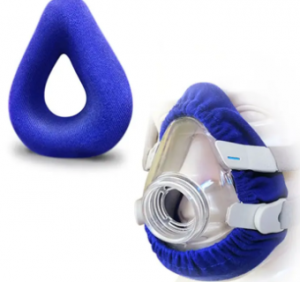 What are CPAP nose pads,  Mask Liners & Nasal Pads?
CPAP Mask liners are a type of CPAP mask cover made up of soft materials what are usually covered on a cpap masks, while nasal pads are some plastic inserts that look like in-ear headphones that are inserted directly into the nostrils.
This mask delivers a set pressure used to maintain an open airway.
These small pillows rest on the end of your nose and can help relieve problems such as air leaks and claustrophobia.
Some of the most popular CPAP nasal pads  models include Swift FX, AirFit P10, Nuance, Opus, Swift LT and DreamWear masks.
They can sometimes be combined with mouthguards, such as hybrid masks such as the Liberty or TAP PAP (which also use a mouthguard component).
When claustrophobic patients wear a mask, they experience anxiety, fear, shortness of breath and shortness of breath.
What to do:
Replace the mask with nasal cannulas to reduce patient discomfort.
Open the door to the room during the night's sleep.
Take sedatives or sleeping pills as directed by your doctor at night.
If these methods do not help, use a systematic gradual decrease in a person's sensitivity to those objects that cause him fear.
The technique consists of several stages.
Wear the mask on the face without connecting to a breathing apparatus during the day for 1 hour. If after 5-7 days the patient gets rid of the feeling of anxiety and anxiety, proceed to the next stage.
Connect the mask through a hose to the device, turn it on and breathe for 1 hour.
You can read, watch TV, and work at the computer at this time. If the patient calmly tolerates this procedure for 5 days in a row, you can proceed to the third stage.
Go to a daytime 1-2 hour sleep with the device. If the patient manages to sleep without feeling anxious and fearful for 5 days, move on to another stage.
The patient spends 4-5 hours of the night's sleep with the device, gradually increasing the time of CPAP therapy.
If the patient has passed the stages and wearing a mask no longer causes fear, then the treatment of obstructive sleep apnea with CPAP therapy can be continued.
The Benefits of using a CPAP Mask Pads & CPAP beard sealant
Nose pillows are a great option for some. If you are claustrophobic, you may find it difficult to tolerate a large mask on your face.
In particular, a mask covering the eyes can be frustrating. In this case, nasal pillows can be useful, as they only minimally obstruct the view and do not have direct contact with the face.
In addition, men with facial hair, such as a large mustache or beard, may have trouble getting hardened with a standard CPAP mask that is worn over the nose or around the mouth.
To reduce air leakage, it may be necessary to press down on the mask so firmly that it becomes uncomfortable.
Nasal pillows eliminate this by applying CPAP pressure directly to the nostrils.
Also, some people prefer CPAP mask liners because they do not leave marks on the face either from the mask interface or from the straps needed to hold the mask in place.
Some people also like to have multiple mask styles that can be changed from day to day, as this also minimizes hardware markings.
Problems with the use of CPAP Mask Liners and CPAP Nasal Pads
However, mask liners may be a good option for everyone while nasal pads may be not good for everyone.
Some people are not comfortable with them. In particular, pillows can tickle or irritate your nostrils. If they don't fit, they can cause sores in the nose.
Choosing the right nasal pads is important. If they are too small, air can leak around them and reduce the effectiveness of the treatment.
Conversely, if the nasal pillows are too large, they can be uncomfortable when stretching the nostrils.
People with sensitive skin can potentially develop a plastic reaction. Even in non-allergic people, occasional use of the wrong mask can lead to pressure sores in the nostrils.
What is the best cpap mask for men with beards?
1.RespLabs CPAP liners.
The absorbent and breathable bamboo fabric acts as a moisture-wicking barrier between the mask material and your face.
The soft texture of the liner can distribute pressure more evenly when your mask doesn't match your unique facial features.
In many cases, this CPAP mask liners can reduce leaks. For the first time all morning, your mask fits perfectly and your skin feels clear.
You feel rested, confident, energized and ready to conquer your best day in history. 
TOP CPAP Nose Pads
2.Snugz Full Face Mask Liners.
The soft texture of the liner can distribute pressure more evenly when your mask doesn't match your unique facial features. In many cases, this CPAP mask liners can reduce leaks.
For the first time all morning, your mask fits perfectly and your skin feels clear. You feel rested, confident, energized and ready to conquer your best day in history. Make CPAP easy with Snugz Full Face Mask Liners.
My Favorite CPAP beard sealant
 CPAP nose pad is a soft nose pad made from a specially formulated polymer silicone.
Using the Nasal Soft CPAP on the nose avoids trauma to the skin in the nasal area and can be used if irritation occurs in this part of the face.
The Nasal Soft CPAP nose pad is easy to clean and allows for multiple uses.
This CPAP nose pad solves the problem of insufficient tightness of the mask to the face and prevents air leakage, while maintaining a sufficient level of pressure in the device.
The manufacturer recommends replacing the CPAP nose pad with a new one every 30-40 days of use. Rinse with warm water before use.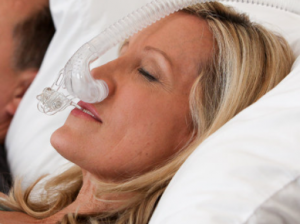 How to put CPAP liners & Nasal Pads correctly?
Do not position the chin restraint so that it covers your mouth or restricts the flow of air in the mask system.

Do not place the chin restraint completely under the chin or over the top of the throat.

Do not overtighten the chin restraint.

Do not use a chin restraint if you have flu or cold symptoms.

If you experience symptoms of dry / sore mouth / throat, see your doctor or therapist.

If any visible damage (e.g. wear, abrasion, excessive stretching, tears) of the chin rest is visible, the chin rest should be discarded and replaced.
Useful Tips of taking care of CPAP Mask Liners
Regular grooming is very important as it ensures that your mask is free of bacteria and any other germs that could cause irritation or infection. It's actually quite easy to care for, but care must be taken when choosing a cleaning agent!

Typically, warm water and soap will do the trick.

When drying, do not leave the mask, sealant and cap in direct sunlight.

We recommend avoiding the use of scented soaps / cleaners. DO NOT use alcohol, vinegar, bleach, aroma oils, essential oils to clean the mask and air hose as they can be harmful. Just like your skin, your mask is very delicate.

For example, various hypoallergenic liquid soaps are sold in pharmacies. It is better to use it rather than a dishwashing detergent (it can be odorant and more aggressive).

We recommend cleaning the mask every day or after each use, and the cap (strap) weekly. Follow the cleaning instructions in the mask instruction manual.

Can the mask and cap be washed in the washing machine? No, you need to wash it by hand.

Pour some product into a bowl (+ warm water approx. 30 ° C), soak for 10 minutes, wash gently, rinse thoroughly and allow to air dry (out of direct sunlight and not on a battery).

Remember, regular grooming is the best way to reduce skin irritation and extend the life of your mask.
Air Leaks because of CPAP mask liners and CPAP Nasal Pads. What to do?
Since the mask may not be sealed to the face, small air leaks occasionally occur. In addition, air leaks occur through the mouth and occur when nasal masks and cannulas are used.
Insignificant air losses do not reduce the effectiveness of treatment, since modern CPAP devices automatically regulate and maintain the required pressure.
Large air losses cause disruption of the entire treatment process, therefore, they require immediate correction of the situation.
What to do:
Check that the size, type of cpap liner and cpap mask and the shape of the patient's face are correct.

Adjust the tension of the fixation belts.

Use full face mask types to minimize air leaks.

Make sure that the retainer or gasket is correctly installed in the place where the mask is pressed against the back of the nose.

Use chin straps to secure the lower jaw in the closed position.

Use devices with automatic pressure adjustment functions for treatment.

Use a heated humidifier.
CPAP nasal pads – Final Words
These complications are rare and correct installation will solve most problems. Many people find nasal pads to be a suitable CPAP option for treating sleep apnea.
If you would like to try nasal pillows, talk to your doctor or equipment supplier and select the size and style that works for you.