Now it has become much easier and more affordable to determine the saturation of arterial blood hemoglobin with oxygen both in a large medical center and at home.
Today, I want to compare two models of Innovo Pulse Oximeters: Innovo Deluxe and Innovo Premium.
Innovo Medical Company is a US company that manufactures Medical Products.
The fundamental guiding principle of Innovo Company is the safety and reliability of all medical products.
Most of the Innovo pulse oximeters are FDA approved.
In a Hurry? My Fast Answer is
Unfortunately none of them made it to my top #1 Oximeter list.
Let me tell you about the Wellue O2Ring – it's like the superhero of pulse oximeters, seriously!
One of the coolest things about it is that it doesn't just clip onto your finger like your average oximeter.
Nope, it's a smart ring that you wear on your finger, making it super comfortable and convenient. You won't even feel like you're wearing anything special, yet it's working its magic behind the scenes.
What sets the Wellue O2Ring apart from the pack is its continuous monitoring feature.
Most pulse oximeters just give you a snapshot of your oxygen saturation and heart rate, but this bad boy keeps tabs on your levels around the clock.
Whether you're chilling on the couch, out for a jog, or catching those Z's, it's right there with you, providing real-time data.
Oh, and speaking of data, this thing doesn't just show you numbers – it visualizes your trends over time too.
Imagine having a personal health diary that tells you when you're acing life and when you might need to take it easy. It's like having a health-conscious buddy right on your finger!
If you're already itching to get your hands on the Wellue O2Ring (or, well, your finger in this case), I've got you covered.
Check out their official product page here.
Innovo Deluxe Vs Premium Pulse Oximeter
Innovo Deluxe and Innovo Premium are fingertip pulse oximeter models designed for continuous non-invasive measurement of saturation and pulse rate.
Deluxe Version shows high accurate results for people with medium fingers ONLY while Innovo Premium version is suitable even for children over 12 and adults.
But Premium and Deluxe Versions are definitely not for people with small fingers, they can produce inaccurate readings for people with tiny fingers.
Both of this Pulse Oximeters have identical working method:
They work by passing a beam of red and infrared light through a pulsating capillary bed and then measuring the amount of red and infrared light exiting the tissues through the sensor.
To improve accuracy, the pulse oximeter ​​uses a proprietary algorithm to collect pulsatile arterial blood data and eliminate tissue noise.
The relative light absorption of oxyhemoglobin (HbO) and deoxyhemoglobin is then calculated according to the Beer-Lambert law and a quantitative measurement of the user's oxyhemoglobin status, i.e. oxygen saturation level (SpO2), is derived.
Innovo Deluxe vs Premium Chart
The Pulse Oximeters look similar and have similar basic features:
All indicators are displayed on an OLED display capable of displaying two colors. This makes both pulse oximeters convenient for visually impaired people and allows it to be used even in poor lighting conditions.
You can adjust the brightness of the screens – depending on the circumstances, you can select the appropriate level.
Their displays work in 6 formats – in each of them the oxygen content in the blood is shown as a percentage. You can configure the device in such a way that the screen displays the pulse rate or pulse wave, pulse modulation index, and select the vertical or horizontal orientation of the numbers.
Both Pulse Oximeters have included Batteries in the kit, and when they are discharged, a special indicator informs the user about it.
After use, the Innovo Deluxe device stays on for 8 seconds and then turns off automatically.
This makes it possible to conserve battery power.
Innovo Premium lacks this feature.
Look at the table below:
Innovo Deluxe

Innovo Premium

Color informative OLED display

Display of SpO2,

heart rate

and plethysmogram (pulse wave)

There are six modes of displaying information on the display

Lightweight compact design (weight 50g including batteries)

Low power consumption, continuous work for 30 hours

Automatic power off, battery indication

The pulse oximeter has 10 levels of display brightness

LED Display type

Saturation

Display range: 0%~100%

Measuring range: 70%~100%

Accuracy: 90%~100%±1%

Color informative OLED display

Plethysmograph – The SpO2 Waveform

 Six multi-directional display choices

Lightweight compact design (weight 55g including batteries)

The pulse oximeter has 10 levels of display brightness

LED Display type

Saturation

Display range: 0%~100%

Measuring range: 70%~100%

Accuracy: 70%~100%±2%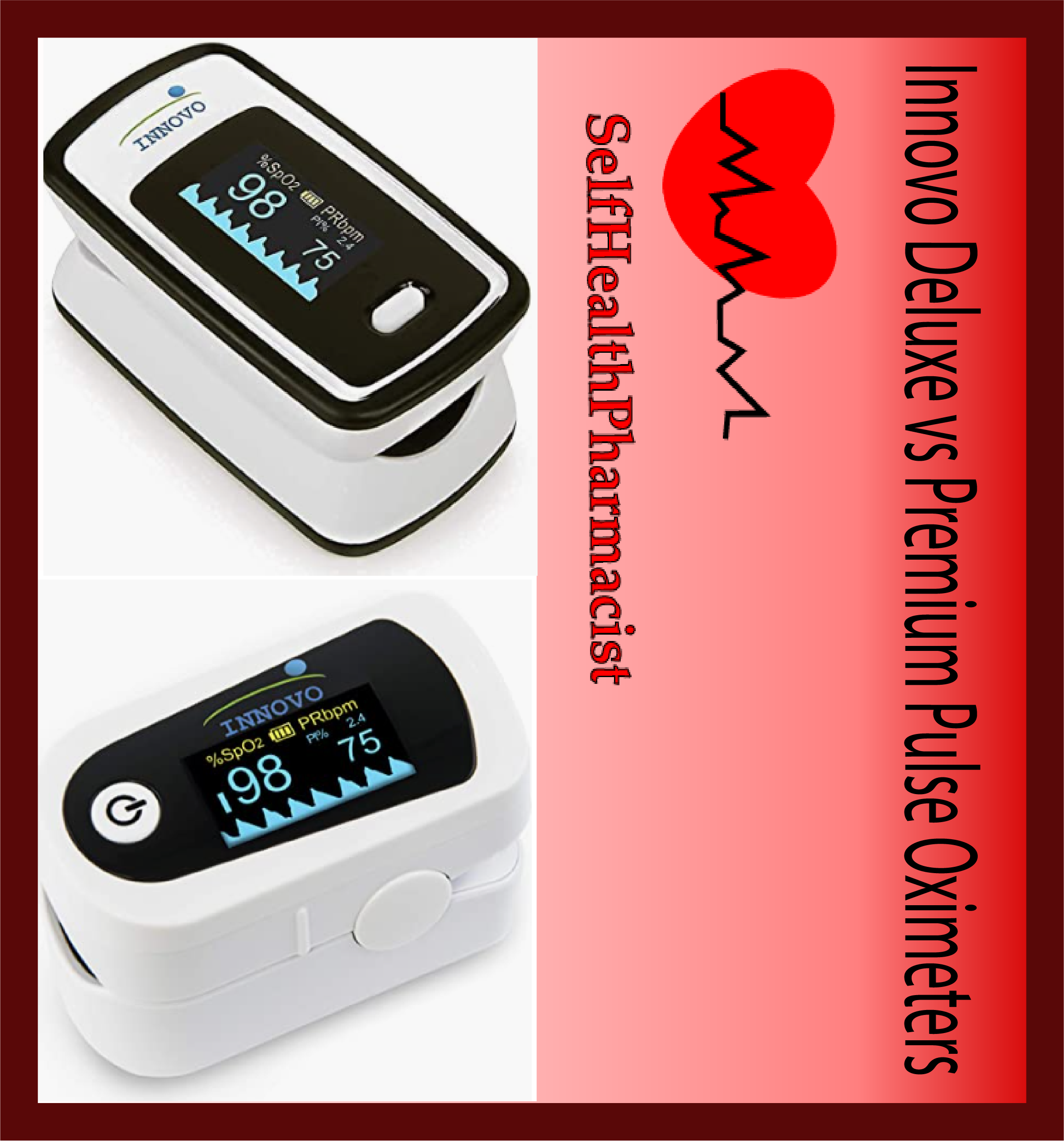 Innovo Deluxe vs Premium Pros & Cons
Innovo Deluxe
The Advantages of Innovo Deluxe Pulse Oximeter
It has one-year warranty

It has an easily readable led display

It includes batteries, lanyard, and silicon cover

Has alarm for low measurements

You can set your ideal measurements
The Disadvantages of Innovo iP900AP Deluxe Pulse Oximeters
This

pulse oximeter can often cease to function

after a year, so it makes the warranty useless.

Rechargeable batteries

Made for Medium Size Fingers

It is not applicable for continuous 24/7

monitoring

It has a LED display which may be somewhat challenging to read (because it has a lot of information on the screen) …
Innovo Premium
The Advantages of Innovo Premium Pulse Oximeter
It has one-year warranty

It includes batteries, lanyard, and silicon cover

Suitable for children 12+

Convenient power button
The Disadvantages of Innovo iP900AP Deluxe Pulse Oximeters
Rechargeable batteries

It is not applicable for continuous 24/7

monitoring

Does not have a warning Alarm Feature
What's the Difference Between Innovo Deluxe vs Premium Pulse Oximeters?
These both pulse oximeters have a plethysmograph waveform, perfusion index and multi-directional display options.
But Deluxe Pulse Oximeter has the following additional features:
The Option where you can set your high and low parameters for the SpO2 level and pulse rate.
The Presence of the alarm that will be ringing when the readings are above or below the set parameters.
My Choice of Pulse Oximeter
My Choice is Innovo Deluxe Pulse Oximeter.
This Model is more modern and has a little bit of new features.
Here I am sharing my experience with you:
The device is packaged in a small compact box that is easy to open and close.
It has a color display.
It turns on with one push of a button, and turns itself off after a short time, writing "Finger out", which means "Finger is missing".
In order to take measurements, just lightly press on the opposite edge of the device – it will open.
All the time while the finger is in the device, measurements will be taken.
One digit on the display shows saturation in%, and the second – the pulse. The norm for a healthy adult is 95-99%. Anything below indicates a lack of oxygen.
In this case, you will need to immediately consult a doctor.
I tested the device on me and the children. Everything is in order in terms of indicators.
The pulse shows correct measurements.
FAQs
Why Do I Need Innovo Deluxe Pulse Oximeter?
Anyone can purchase Innovo Deluxe for personal use. 
It does not require special medical knowledge, additional calibrations or special maintenance.
Both the child and the pensioner will be able to install sensors and turn on the pulse oximeter.
Its reliability and ease of use have proven themselves in the medical equipment market.
What Are The Pluses of Innovo Deluxe Pulse Oximeters?
The advantage of this model also includes low weight and modest dimensions. Such a device is easy to take with you on a trip to monitor the state of the body during the trip.
In addition, this model is equipped with a special strap, which is convenient to carry with you.