If you or someone you know has sleep apnea, you may have wondered if sleeping in a hammock is a possible solution to not having to use a CPAP machine at night while camping.
Hammocking with Sleep Apnea – Intro
There are also many avid campers out there with sleep apnea wondering if hammock camping is a possibility for them.
Here, I'll aim to address these questions surrounding sleep apnea and Hammocking with Sleep Apnea
Will sitting up while sleeping help sleep apnea?
When sleeping in a hammock, you are sleeping on your back with your body elevated from the waist up.
Since you aren't sleeping horizontally as you would in a bed, some may wonder how sleeping in a hammock might affect sleep apnea.
According to the American Sleep Apnea Association, sleeping in this position may actually help to keep the airway from collapsing.
Specifically, sleeping with the head elevated prevents the tongue from falling back and blocking the airway.
Furthermore, a study on 52 patients with obstructive sleep apnea found that a mild degree of "head-of-bed elevation" (of 7.5 degrees) reduced the severity of obstructive sleep apnea by an average of 31.8% among patients who mostly had mild to moderate obstructive sleep apnea.
The study also found that sleeping with the head elevated reduced hypopneas (or events of shallow breathing) by 47.3% and respiratory events (events associated with drops in oxygen levels) caused by sleeping on the back by 44.9%.
It was concluded that sleeping with "head-of-bed elevation" can be considered as an alternative treatment to obstructive sleep apnea.
How to sleep in a hammock while camping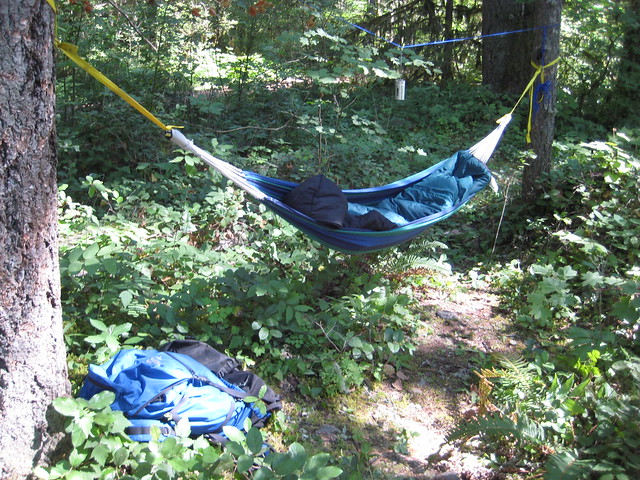 Here I'll highlight some tips and tricks for how to sleep in a hammock, whether it is outside while camping, in your backyard, or somewhere in your house.
Location
The first thing to consider is where you plan to sleep in your hammock. Do you have a place to hang it securely (for example, between two trees)? Or would you need a hammock with a stand?
Material
Next, you'll want to think about the hammock material. In my opinion, the best hammock material for sleeping would be either nylon or cotton.
Hammocks made of rope or slats wouldn't be comfortable and could potentially cause rope burns.
Hammocking with Sleep Apnea – Size
The size of the hammock is also important. Generally, wider, longer hammocks are more comfortable. Larger sized hammocks are a safe bet to prevent any tears, especially if you're a larger person.
Hanging hammocks
If you plan to hang your hammock, you should hang it from two trees that are about 12-15 feet apart. These hammocks will typically come with the carabiners, bungee cord, etc. that you will need to hang the hammock securely.
When you hang the hammock, there should be a 30-45 degree between the hammock line and the tree.
The hammock shouldn't be hung too taught, and there should be a deep enough curve in the middle of the hammock. It should hang at least 12-18 inches from the ground.
Sleeping in your hammock
Things to note:
It's safe to use a blanket and pillow while sleeping in your hammock
When entering the hammock, sit down (butt-first) in the middle of it, then swing your legs over
Make sure you're lying diagonally on your back so you don't sink to deep into the middle of the hammock
Make sure you slide up enough so that your head is elevated and supported
Hammocking with Sleep Apnea – What hammock should I buy?
After researching which might be the best hammock for sleeping, I think there are three excellent options to consider based on where/how you want to set up your hammock.
Best all-around hammock – Hammocking with Sleep Apnea
The Zenithen Limited Folding Hammock has a built-in stand, and the whole hammock is foldable and portable.
I consider it to be the best all-around since, because of this feature, you can sleep in it anywhere.
You can set it up inside your house, in your backyard, or in the middle of a forest and not have to worry about hanging it.
Key features:
Made of heavy duty steel for stability
Retractable canopy for guaranteed shade
Quick and easy set-up
Cup holder within reach
Best hammock with a stand for backyard/home
If you can't hang your hammock, and need one that comes with a stand, the Vivere Double Cotton Hammock is the best option for you.
Key features:
High quality cotton thread that is comfortable and durable; hammock should be removed from stand and stored indoors during inclement weather
Heavy duty, space-saving, steel stand that can be assembled within minutes
Adjustable hammock hooks so you can customize how high or low you hang it
Pure polyester end strings that last longer than traditional cotton endstrings
450 lb capacity
Comes with premium carry bag that carries both the hammock and stand
Over 30 color options
Options to purchase add-on accessories separately
Best nylon hanging hammock – Hammocking with Sleep Apnea
If you prefer a hammock that you can hang and/or want the best hammock for camping, this Sunyear Camping Hammock is the one for you.
Key features:
Made of high quality parachute nylon material that is comfortable and durable
Has a specially designed and durable mosquito/bug net that attaches over the top of the hammock
Can be flipped over so that it can be used as a regular hammock, without the mosquito net
Compact, lightweight, and portable
Comes with installation tools: 2 easy-setup hammock straps, 2 carabiners, 2 net ropes
Can be set up in less than 5 minutes
Up to 500 lb single support
Multiple color options
Images courtesy of Visual Hunt
Hammocking with Sleep Apnea References
Obstructive Sleep Apnea: Gadgets and Devices. WebMD. https://www.webmd.com/sleep-disorders/sleep-apnea/sleep-apnea-gadgets#:~:text=Position%20Pillows&text=Sleeping%20on%20your%20back%20with,American%20Sleep%20Apnea%20Association%20says. Accessed September 2022.
Fabricio de Barros Souza FJ, Genta PR, Jose de Souza Filho A, Wellman A, Lorenzi-Filho G. The influence of head-of-bed elevation in patients with obstructive sleep apnea. Sleep Breath. 2017;21(4):815-820.
4 Best Sleeping Positions to Improve Sleep Apnea. US News & World Report. https://health.usnews.com/conditions/sleep-apnea/articles/best-sleeping-positions-for-sleep-apnea#:~:text=%22Sleeping%20with%20the%20head%20as,keeps%20the%20airway%20more%20open. Accessed September 2022.