Somnox Sleep Robot
Why are Disorders dangerous?
Sleep disorders are a common problem these days, and inventors tirelessly come up with new devices to help deal with it.
It is known that slower breathing and the ability to distract from obsessive thoughts and relax contribute to falling asleep. In addition, melatonin production occurs in the dark, so opaque curtains are important for sleep hygiene.
Lack of sleep is bad for business. Entrepreneurs often talk about how waking up at four in the morning helps them to be effective and successful, but in the long run, such feats only hurt. All studies show that consistent sleep deprivation makes the brain work worse.
Earlier, scientists from the Massachusetts Institute of Technology have created a technology that will help track a person's sleep using radio waves.
They plan to use it to study sleep disorders. The system focuses not only on human movements, but also on parameters such as respiratory rate and pulse.
https://selfhealthpharmacist.com/best-chin-strap-for-mouth-breathers/
In addition, sleep deprivation is associated with an increased risk of dementia in old age, and sleep deprived people are much more likely to interpret people's behavior as dangerous – even for no apparent reason.
Today let's talk about sleep robot pillows.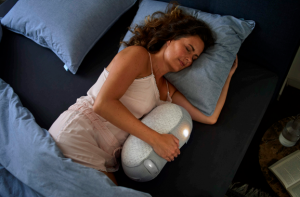 The American company Somnox presented the robot of the same name, which helps to fall asleep faster and sleep better.
What is a Somnox Sleep Robot?
"Somnox's philosophy is to create "living"
assistants."
Somnox is like a pillow and needs to be hugged all night for it to work. The creators of the robot claim that it helps to quickly and soundly fall asleep due to the built-in mechanism that simulates breathing. A person hugging a robot involuntarily adjusts to it and falls asleep.
Somnox Sleep Robot is a robotic pillow that helps you relax and fall asleep by simulating a breathing rhythm. In addition, she plays a tape on which you can focus, distracting from your thoughts; it can be directed meditation or a heartbeat.
You can also listen to audiobooks, lullabies, white noise, or any other sound that helps you sleep. It is assumed that the very hugs with the Somnox pillow-shaped robot will contribute to relaxation and positive emotions.
https://selfhealthpharmacist.com/sleep-headband/
It is equipped with an "artificial dawn" function for easy awakening. As morning approaches, the pillow begins to light up, gradually increasing this effect.
With the Somnox mobile app, you can sound and fall asleep to a lullaby, heartbeat, the sound of the surf or instructions for meditation. The founders of the startup invented the robot when they were studying to be engineers in the Netherlands and did not get enough sleep most of the time.
 The Somnox Sleep Robot will not be effective immediately. The research has shown that it takes at least 7 nights to get used to the Sleep Robot.
It is recommended to use a Sleep Robot when preparing for bed, about an hour before bed so you can relax after a busy day.
Since a sleep robot is not a one-stop solution to sleep, they recommend using the Sleep Toolkit (included) which was prepared for you to study your sleep, formulate tasks and improve quality sleep.
Take a little of your time for this. Be patient and you will easily fall asleep and wake up full of strength and energy.
Technic Specifications, Characteristics Value
Functionality: Imitation of breathing, relaxing music, convenience, comfort
Dimensions: (H x W x D) 355x203x127 mm / 14x8x5 inches
Weight: 1.9 kg / 4 lbs
Battery type: Li-ion
Battery life: 3500 mAh, breathing mode 10 h (inhalation / exhalation = 1: 1)
Compatibility :IOS and Android OS compatibility
Bluetooth :4.0 BLE networking capabilities
Sensors: Breath detection, motion detection
Memory: 16 GB microSD card
Personalization of Sleep Robot Pillow
In the mobile application, you can personalize your Sleep Robot. From app guides which show you how to set the right rhythm.
Breath and set the desired music or sounds. Below is additional information about the functions of the mobile application.
Breath Respiratory rate depends on both the physical and mental state, as well as
user habits.
For example:
Professional athletes breathe frequently at a lower rate of
compared to those who never exercise.
The respiratory rate of smokers and those who consume a lot of caffeine is higher.

Stress levels are one of the most important factors affecting

breathing rate. You may have noticed that in a stressful situation your

breathing quickened or faltered, or you began to breathe faster
Through software updates, Somnox provides new features to help make Sleep Robot even smarter.
Thanks to updated software you can activate sensors, sleep analysis, smart alarm and more.
Location
Somnox researchers have discovered that the best way to sleep with a Sleep Robot is to sleep in a position that is comfortable for you.
Although Sleep Robot is designed for position during sleep, Somnox recommends using different sleeping positions to find out which is right for you. The Sleep Robot shape is designed so that you can snuggle up to the robot. Pull it towards you and feel the breath.
Important!
This product is not designed or intended for use in the diagnosis of diseases or other conditions, as well as during treatment, mitigation, prevention of disease and medical procedures.
Consult with a doctor for prevention, diagnosis and treatment of sleep disorders and other health problems
 Tailed Robotic Pillow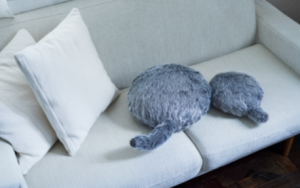 The Japanese company Yukai Engineering introduced another robotic pillow: it can wag its tail when stroking it.
The creators call their robot "the tailed pillow that will heal your heart." This is reported by Engadget.
Yukai Engineering is a startup that specializes in the creation of robotic accessories. So, among their developments are fluffy ears that move depending on whether the person who wears them is relaxed or tense, or a miniature robot doll that can dance and sing.
The company has now unveiled the Qoobo soft robot concept – a pillow with a tail that responds to stroking. The pillow is presented in two colors (gray and brown), equipped with a USB connector, with which the device can be charged. On a single charge, the cat pad can wag its tail for eight hours.
The tail of this headless cat moves in different ways, reacting to stroking and creating the illusion of communication with a living creature.
The pillow can only wag its tail and vibrate, imitating a purr – nothing more. But for those who are allergic or simply do not have the opportunity to have a pet, but want to pet someone, this is enough.
About six months ago, the designer of the company had to leave his cat to his parents, because it was impossible to take a pet to the apartment where she moved. Then she decided to help herself and other people suffering from depression and anxiety, but unable to get a pet.