Listening to music in headphones outside the home is always a struggle between chaotic external noise and music, isn't it?
Whether you will hear the rumble of a railway car or the sound of your favorite composition depends on the degree and quality of noise reduction of your headphones.
How can you get rid of external noise and most importantly how if you have tinnitus?
Let's figure it out together…
Are you looking for a Best Pulse Oximeter? 
It can measure your Saturation Measurements and Perfusion Index in several seconds with 99% accuracy…
It can be used by both professional specialists and ordinary users at home.
The latch fits snugly to the finger and does not move out during operation.
The gadget consumes a minimum of energy, so it does not require frequent replacement of batteries.
How Does Active Noise Cancellation System Work?
The active noise cancellation system consists of several elements:
Two external microphones located on the outside of each of the headphones – they pick up all external sounds.

A DSP processor that is responsible for "mirroring" the sound captured by the microphones and routing the signal to the earpiece's speaker.
For active noise cancellation to work, it is desirable that the headphones have at least two external microphones – this way more external sounds will be captured and, therefore, cut off.
So, the ANC system captures the noise to be eliminated using external microphones and inverts the phase of the sound wave – the received wave has the same amplitude, but the phase is mirrored.
When the inverted wave is directed to the original one, compensation occurs "to zero".
Simply saying, the waves mix and cancel each other out.
Active noise cancellation does not muffle all sounds completely, only by 20-30 Hz.
If we talk about numbers, then a person perceives sounds in the frequency range of 20 – 20,000 Hz.
And most noise reduction systems block noise in the range of 100-1000 Hz.
If the frequency is below 100 Hz, we also perceive it with our body, so no headphones with ANC will save here.
The effect of silence can only be obtained in full-size high-quality headphones, where several microphones are built into the earcups, which are responsible for picking up sounds at different frequencies.
Also, many ANC headphones have an interesting "transparency" feature, when noise cancellation is turned off and you hear external sounds.
So, you can chat with the interlocutor, hear the approaching transport in time without removing your headphones…
By the way, ANC requires electricity to work, which is why the headphones are discharged faster when noise reduction is turned on.
Remember: If single-mic headphones promise you ANC, then its quality is likely to be mediocre.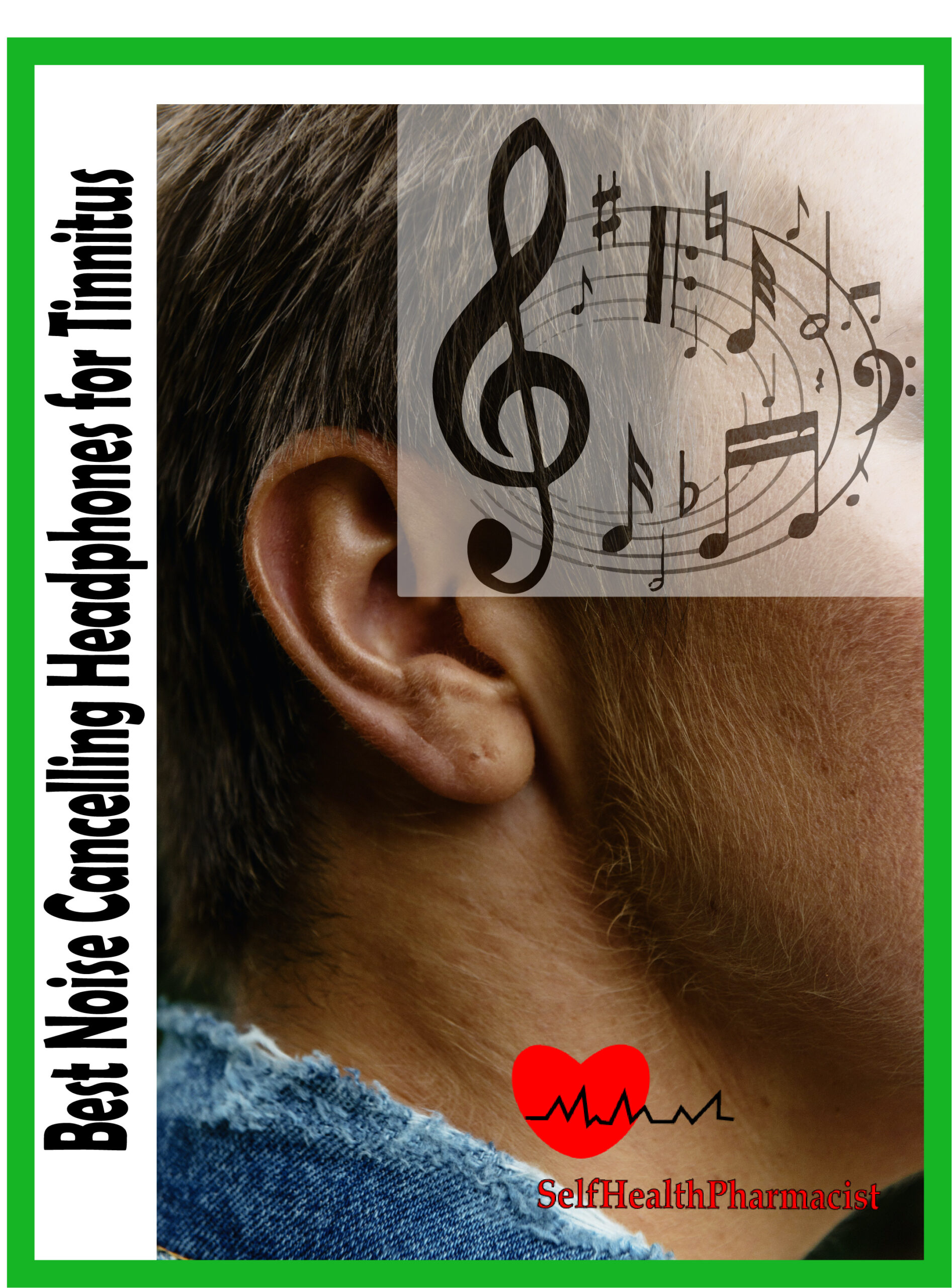 Do Noise-Canceling Headphones Help with Tinnitus?
Tinnitus is an unpleasant and not very loud sound that a person hears in their ears without an external source.
This is not an independent disease, but a symptom.
Perhaps real health problems, which ones – need to be dealt with. There is a possibility of psychosomatics and depression. But the source may not be found.
Noise Canceling Headphones by themselves are safe for Tinnitus sufferers. Noise canceling headphones will not help to stop tinnitus, but they will make tinnitus less visible.
In fact, ANC was created to protect pilots' hearing from the loud sounds of aircraft engines, so noise canceling headphones can prevent hearing loss and reduce noise-induced stress…
Best Noise Canceling Headphones for Tinnitus
High-quality sound is a subjective concept, and for everyone it is different, depending on the anatomy and even the musical preferences of the user.
Therefore, I will not discuss the sound in detail, but will look the effectiveness of noise reduction and other features of the presented models for Tinnitus:
Sony WH-1000XM3
The headphones detect the size of your head, whether you are wearing glasses or if you have hair under the ear pads (in general, everything that can contribute to sound leakage), and adapts to the user on the go.
As for the quality of sound insulation, no extraneous sounds reach the user when listening.
For traveling, they are especially indispensable – on the train and plane, you can simply turn off the external noise and enjoy the silence, even without music.
There's also a mode that skips all sounds – if you need to hear what's going on around you.
As for the sound, the headphones produce a strong bass and are perfect for compositions with a powerful beat.
With ANC turned on, the headphones work up to 30 hours, without noise reduction – up to 38 hours.
The battery is fully charged via the Type-C connector in three hours, but there is a fast charge, in which the headphones will recharge in 10 minutes for 5 hours of operation.
The kit comes with a convenient fabric case with an additional compartment for the wire, as well as a 3.5 mm cable with an adapter and a Type-C cable for charging.
Bose Noise Canceling Headphone 700
In the wireless Bose Noise Canceling Headphone 700, eight microphones are responsible for active noise cancellation.
ANC has 11 levels: you can adjust the noise reduction from audible external noise to almost complete sound isolation.
The talk mode allows you to instantly turn off the soundproofing to answer your interlocutor.
As for telephone conversations, four microphones catch the voice and isolate the noise around, so that it is equally comfortable for both parties to communicate, even in a noisy environment.
Without a wire from a single charge, the headphones work for about 20 hours – enough for a long flight. They charge via USB Type-C in 2.5 hours, there is a fast charge that provides 3.5 hours of work in 15 minutes.
The headphones will last 40 hours on a noise-canceling wire, after which the headphones will work without ANC.
Beats Solo Pro
The Beats Solo Pro uses the Pure ANC sound reduction system.
It copes well with its immediate task – the noise of the subway or other public transport is removed by about 80%, and in other usage scenarios, the user is waiting for almost perfect silence.
On the other hand, the form factor makes its own adjustments – with a strong wind, the headphones are "blown through", which violates the sound insulation.
In addition to pairing with smartphones on iOS and Android, the headset works with the Apple TV set-top box.
As for autonomy, a full charge will last for 22 hours with noise cancellation and up to 40 hours without it. Of course, there is fast charging – 10 minutes is enough to listen to music for another 3 hours.
Sennheiser PXC550-II
In the Sennheiser PXC 550-II, you can change the level of noise reduction depending on the surrounding conditions: make it maximum or less intense.
This is done in order to avoid feeling pressure on the membranes.
When playing music, extraneous noises with ANC turned on are almost inaudible – the headphones equally drown out the rumble of an airplane, the noise of a busy highway, and a coffee machine running nearby.
In the kit, in addition to the carrying case and cables, there is an adapter for 2 Mini Jacks for the aircraft to replace the low-quality on-board headphones with your headset.
 You can also control the headphones from your smartphone using the proprietary Smart Control application.
The minus of the model is an outdated micro USB, which the manufacturer uses for charging.
Final Words
It's great if you can find the source of tinnitus, cure or correct the pathology that caused tinnitus as much as possible.
If medical procedures do not help, many experts tend to mitigate psychological discomfort and recommend methods to use noise canceling headphones or getting used to the sounds in the ears (if you get used to it, you stop noticing it).
Do not get carried away with pharmaceuticals: antidepressants and sedatives.
Even if the tinnitus does not disappear, a change in lifestyle towards a healthier, calmer, more athletic lifestyle will bring guaranteed benefits.
FAQ
Why Do I have Tinnitus when I am Stressed?
Sometimes, with severe nervous strain, patients may complain of a ringing, but this is directly related to the vessels. When a person experiences stress, his/her pressure may rise.
This results in vasospasm. It can affect the inner ear and cause tinnitus. Noise reduces performance and, as a result, causes depression.
What Noise Cancels Out Tinnitus?
Tinnitus maskers are subtle noise waves that are used to "muffle" or suppress tinnitus in the ears. They work just like any other sounds, for example when watching TV or listening to music.
Can Headphones Make Tinnitus Worse?
Any noise with an intensity of more than 80 Hz negatively affects the inner ear and makes Tinnitus Worse.
Loud music affects the cells responsible for the perception of sound, especially if the attack comes directly from the headphones.
 The situation is also aggravated by vibration in the subway, which also negatively affects the structure of the ear.
How Many Hours a Day Can You Wear Headphones?
Without damage to your hearing, you can listen to music through headphones for no more than 1.5 hours a day at a volume of no more than 80% of the maximum level.
Hearing loss is an insidious disease that often begins unnoticed.